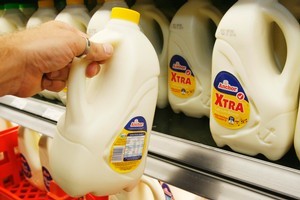 The final tick for a parliamentary select committee inquiry into the price of milk is expected to be given at the National Party caucus today.
Labour and the Greens have been pushing for such a probe after the Commerce Commission last week decided not to hold a formal investigation into milk prices.
Cabinet yesterday agreed to support an inquiry, and National would make the final decision in its meeting this morning.
Prime Minister John Key said he expected the caucus to take the same view as Cabinet.
Mr Key said the Government's initial reluctance around a select committee inquiry was due to concerns it would cut across work that was already being done on the issue.
"If the Commerce Commission can't do its work then there's no real harm I guess from the select committee inquiry, providing it doesn't slow up that process and the work we're doing," he told TV3's Firstline.
"There's a lot of work that's been going on from those officials...they're close to giving a view around the competitiveness of rural milk pricing and the likes, we'd hate to see that slowed up or put on ice while the select committee inquiry takes place.
"But in the end I'm pretty sure there'll be a select committee inquiry and we'll see where that takes us."
If other parties supported a select committee inquiry, terms of reference would be drawn up and the committee would call for submissions.
Labour leader Phil Goff yesterday said an inquiry should go right across the board, from milk prices at the farm gate to the level of competition at retailers.
"New Zealanders deserve to have an answer to the question of why they're paying more for their milk than in most other comparable countries," he said.
The Maori Party also supported a full inquiry, with MP Te Ururoa Flavell saying he did not believe it was simply a problem at the retail end of the chain.
"A comprehensive inquiry should also look at the supply of raw milk to milk product processors; and the manufacture and supply of milk products within the scope of the review," he said.
"It's one thing to investigate the price of milk but we also need to consider how anti-competitive behaviour will not be tolerated."
- NZPA