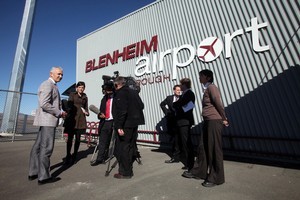 An engineer was sucked into a working aircraft engine and killed as a colleague working alongside him looked on in horror.
The death of highly regarded Safe Air employee Miles Hunter, 51 - while carrying out routine engine testing done hundreds of times without incident - has left his workmates at a loss as to what could have gone wrong.
Mr Hunter was caught in the detached engine of a C-130 Hercules aircraft at the Woodbourne airbase near Blenheim shortly after 8am yesterday. Emergency services performed CPR but were unsuccessful, and he was pronounced dead at the scene.
Police, on behalf of the coroner, and the Department of Labour are now investigating what went wrong. Safe Air is a subsidiary of Air New Zealand, and Air New Zealand chief executive Rob Fyfe flew to Blenheim yesterday to support the workers.
Mr Fyfe said Mr Hunter was working with a colleague - who was in a control room monitoring the engine's performance - while Mr Hunter was visually inspecting it.
"So the colleague was there at the time, and certainly the experience of this incident and the loss of Miles has been incredibly [difficult] for him, as you can imagine."
The worker passed on what information he could to investigators yesterday.
Mr Fyfe said he had no information to suggest Mr Hunter had gone into an area he should not have entered.
"So it's very hard to understand what went on."
Mr Hunter had joined Safe Air in 2005, but had been working around machines and engines his whole working life. He had previously been a motorcycle mechanic, and had put himself through the Nelson Marlborough Institute of Technology to prepare for a career at Safe Air.
"When you talk to his colleagues, they describe him as someone who is very committed, loved his work, [and is] very safe and very assured," Mr Fyfe said.
"This death in such a tragic accident has certainly shocked his colleagues, and unsurprisingly they are at a complete loss how this accident could have occurred, because they had the utmost respect and regard for his abilities and the way he operated."
Safety procedures around this type of engine testing appeared to meet the universal standard, Mr Fyfe said.
Mr Hunter had been a member of the Engineering Printing and Manufacturing Union (EPMU) for many years, and the union yesterday described him as a "highly regarded and much-liked" member of the workforce.
"One has to be experienced to work on aviation engines in New Zealand. They are highly qualified aviation engineers," said EPMU national secretary Bill Newson.
"There's no reason to doubt his skills and qualifications at all."
Mr Fyfe has past experience dealing with the tragic deaths of his employees, but said it did not make it any easier when he got the call about Mr Hunter's death yesterday.
Mr Newson said the death was in a small community where everyone knew one another, "so they are in a fair amount of shock".
Safe Air was a highly regarded operation, but there was no valid reason for any person to be killed at work.
"So we have got to find out what went wrong and why."
Some Safe Air operations will continue today, while others will be on hold.