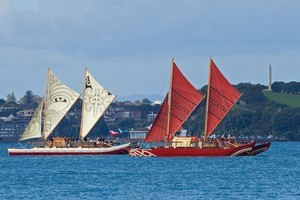 Six voyaging canoes from Pacific islands, including New Zealand, have completed their journey to San Francisco.
The 100 crew members, from New Zealand, Samoa, Fiji, Cook Islands, Vanuatu, Kiribati and Hawaii, greeted locals at an open day in San Francisco Bay.
The voyage was organised by a wealthy German philanthropist Dieter Paulmann, who wanted to highlight the role traditional knowledge could play in saving the ocean from environmental threats.
He thought of the Pacific Voyagers expedition three years ago at a Pacific arts festival in Pago Pago, American Samoa, and seven double-hulled fibreglass canoes were built in Auckland.
Five left Auckland's Viaduct Harbour in mid-April and sailed to a rendezvous in French Polynesia's Tuamotu Islands with the rest of the fleet.
Mr Paulmann told the San Francisco Chronicle that he was alarmed by increasingly acid levels as seawater absorbed carbon dioxide from the atmosphere: "Each time we run the car we put another drop of vinegar in the ocean".
He wanted ways to illustrate the problem and chose the tradition of voyaging canoes, which Polynesians used to explore and settle the ocean.
"The vaka is safe, it brings solidarity and joy, it's driven by solar power, it's simple, and it brings us back to our roots," Mr Paulmann said.
"It's a metaphor for everyone to think of their own story for the next 10 or 20 years. What should the world look like? When I think about it, everyone who is coming to see the vaka who is impressed starts to change a little."
Tahiti's canoe stayed in Hawaii, but, combined, the fleet travelled the equivalent of five times around the globe, Mr Paulmann said, "with no accidents, no big problems, very minor little damages. ... This is proof how reliable, how fast and safe these vaka moana are".
The crews witnessed the effects of increased ocean acidity on sea life and logged pages and pages of floating trash.
The journey was filmed for a documentary with the working title Our Blue Canoe.
Mr Paulmann said he hoped that it would help people realise that everyone in the world was effectively in the same boat, when it came to saving the ocean and our environment.
Some of the canoes are expected to travel down the Californian coast to San Diego, then return across the Pacific with calls at the Cocos Islands, Galapagos, French Polynesia, Cook Islands, Samoa, Tonga, Fiji.
They are expected to rendevous again at the 2012 Pacific arts festival at Honiara in the Solomon Islands.
- NZPA