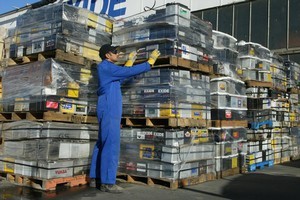 A Wellington-based plans to sue the Government for continuing to ship used lead acid batteries overseas.
The Exide Smelter in Petone said the Government was breaching the Basel and Waigani treaties' obligations to limit the international transport of hazardous waste, and to favour New Zealand facilities where batteries could be disposed of or recycled in an environmentally sound way.
"We believe the Government has failed to meet these legal obligations in exercising its discretion to grant export permits," Exide's Australasian managing director John Cowpe said.
Green MP David Clendon raised concerns about whether New Zealand was meeting international convention agreements in Parliament last week.
Environment Minister Nick Smith said his preference was for the waste to be managed in New Zealand, but the Government needed to be satisfied Exide was being run by best world practice.
"I will need to be satisfied about the environmental standards, given the quite chequered record of the Exide Technologies plant in Petone."
Used batteries have been sent to the Philippines and Korea.
"The Basel convention differentiates between developing and developed countries. Ministry of Economic Development officials did inspect the Philippines facility. They advised me that the standards there are the same, or better, than those of our own plant in Petone."
Mr Cowpe said his company had invested millions into making sure the Petone smelter was environmentally sound.
"However, we do not have any batteries to recycle because the Government has granted permits to export nearly 100,000 tonnes to developing countries like the Philippines and to Korea since January 1, 2008," he said.
"Exide does not want to create a monopoly for recycling used lead acid batteries. We also do not want the Government to ban export permits for the batteries. We just want the Government to meet its international and domestic legal obligations."
Exide's lawyers are due to meet the Ministry of Economic Development today to discuss the litigation and are expected to file proceedings with the High Court this week.
- NZPA