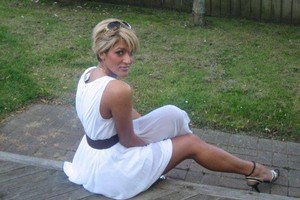 She calls herself Aaliyah after the soul diva; she likens herself to screen siren Marilyn Monroe and she owns dogs named Gucci and Dior.
But Elmira Rafiee's delusions of grandeur came crashing down this week when she was charged in court in connection with an elaborate alleged internet scam to sell iPhones and iPads that didn't exist.
Rafiee, 24, is alleged to have contacted 45 Trade Me and Sella customers by text message, pretending to be selling the Apple mobile devices.
The Aucklander is alleged to have spent much of her life online - so it was appropriate that she went on Facebook last weekend to say: "Aaliyah just wants this ugly day to end."
On Tuesday, she appeared in Auckland District Court, charged with accessing a computer system for a dishonest purpose. She allegedly scoured Trade Me and Sella for people who had posted their contact details on iPad and iPhone auction pages.
Michael from Christchurch, who did not want to give his surname, said he put his cellphone number on a Trade Me auction saying he was an interested iPad buyer. A woman calling herself Ria Pearson contacted him, saying she was the seller.
He deposited $400 into her bank account - but contacted police when his new iPad did not turn up in the post.
"She texted and emailed me," he said. "I spoke to her on the phone and she sounded like a young girl so I didn't think it was dodgy. She sounded legit.
"Forty-five people fell for it. That's ridiculous. I hope I get my money back."
When the Herald on Sunday called at Rafiee's parents' house in Mt Roskill yesterday, she declined to comment on her charges.
"I will f*** you up if you don't get the f*** off my property," she said.
The Auckland city district police financial crime unit had been working on an arrest for some time, police spokeswoman Noreen Hegarty said. Investigations were continuing and Rafiee was remanded to reappear on August 23, when further charges are likely to be laid.
Trade Me trust and safety manager Jon Duffy said a female scammer had conned 31 Trade Me members of almost $30,000.
"She was on a bit of a rampage and was easily traced via her bank account," he said. "She also had money deposited into the bank accounts of associates so we believe there were more people involved, although only she has been arrested at this stage."
The highest single amount was $1100 for an iPad.
"It's a timely reminder for people not to post their details online and to do their due diligence about sellers when trading."
Rafiee's brother Ali is serving six years in prison for murder.