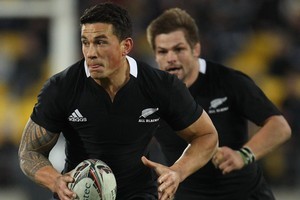 If you're a consumer, you have to love that strong Kiwi dollar.
If you know your way around the internet, you'll be making the most of the bargains to be found on US websites. We've known for years that books and CDs can be bought for next to nothing, especially compared to the prices we pay here, thanks to Amazon and the Book Depository.
The travel industry, too, took a hit when people discovered the joys of booking their holidays online and bypassing the agent.
A few brave souls I know even buy gorgeous clothes from fabulous websites and are absolutely delighted with the bargains they get.
As more and more people discover the ease of shopping at the click of a mouse, and thousands of websites spring up globally every day, offering to send their products to all corners of the Earth, the way we shop is changing irrevocably.
And as the debate over the price of the All Blacks' new adidas shirt proves, it's an issue that is likely to stay at the forefront of the retail debate.
All Black fans have discovered that a shirt selling for $219 at retailers like Rebel Sport can be bought online from the United States for just over $100 - including postage. As these delighted footy fans say, why would you pay double the price if you don't have to?
One man told me that he'd been comparing the price of fish finders and was able to have one delivered to his door - again from the United States - for less than half the price it would have cost him here - and the finder was made in New Zealand. He couldn't work out how that could be so.
Our retailers are doing it tough. They have to pay duty on the goods they bring in, they have to pay the prices that are set by the manufacturers, they have to add the 15 per cent GST.
That makes any product they sell at least 35 per cent more expensive than items ordered through the web which are exempt from all of these financial constraints.
I can understand why people are taking advantage of the savings and retailers will simply have to adapt to survive. Those stores offering a specialist service or who give their customers a special experience will always be around.
Others will have to realise that emotional blackmail isn't going to work. Telling Kiwis they have to shop local to keep people in jobs is all very well and good but we live in a low-wage economy and if you can get what you want for half the price, patriotism goes out the window.
Where I think you do have to use your moral compass is where a store offers you far more than just a product. A young woman rang me who'd had chronic shin splints. She went to the Shoe Clinic where she was evaluated, put on a treadmill, diagnosed and given running advice as well as a specific recommendation as to what shoes she needed.
She was delighted with the service but horrified when she was told that the shoes she needed were $289. She left the store, but while browsing the net she found the exact same shoes for the equivalent of $139 on a US site. She felt bad telling the helpful man at Shoe Clinic that she wouldn't be buying his shoes but she was on a tight budget and she went for the shoes she could afford.
There are many similar scenarios and it's become such a problem in Australia that many stores now charge for specialist fittings and consultation - with the fee fully refundable when the goods are bought in store.
Fair enough that consumers shop around for the best bargain - but I think retailers will start to realise that they can't continue to give away something for nothing and those that do offer a genuine service will have to put a price on that.