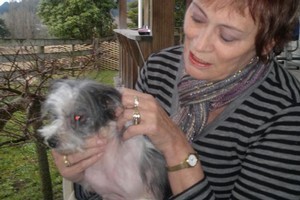 For one year Carol and Bryan Wood have clung to the hope their beloved dog - who was stolen while they were holidaying at the beach - would eventually turn up safe and sound.
But it still came as a shock when the phone rang this week with the news that the Maltese-Shitzu cross had been discovered.
She was in a "very bad condition" and may have been used as bait in dog fights, but she was alive.
"I couldn't take the smile off my face for hours. I just could not believe it," Mrs Wood said.
Mrs Wood and her husband were holidaying in Whitianga when Mitzi went missing last year.
They believe she was taken by two men with a child who were in a car parked nearby and suddenly left during the time Mitzi vanished.
The couple spent days looking for their 4-year-old pet - advertising on the radio and in newspapers, placing flyers and driving all over town.
Mrs Wood said she clung to the hope Mitzi would one day be found.
"We never gave up because she was microchipped and we thought some day someone might take her to the vet ... or she might get out somewhere and get found roaming - that's what we were hoping."
Mitzi had been found by a council animal control officer who had gone to a house on an unrelated matter.
The officer said he had asked the people at the house if they had any dogs there.
"They said no and the little dog barked. I said 'you'll have to register that dog that's barking in there' and they said 'oh, you can have the bloody thing'. I just brought it back home and microchipped it."
The officer said Mitzi was suffering from mange. He also believes she was being used as bait in dog fights.
"That's what they use those little dogs for, they use them as bait and hold two fighting dogs on each side of it and the fighting dogs get highly agitated. Then they take the little one away and let the other two dogs go to it," he said.
Mrs and Mr Wood were shocked by her condition.
"We just couldn't believe that it was her, I would have passed her in the street without noticing."
But Mitzi immediately recognised her owners.
"She barked and came sniffing around us and we picked her up and just cried. When we brought her home she ran inside and was just running around and around in circles and just barking. She knew she was home."
"She's not going out of sight for a while," said Mrs Woods.
"It's amazing to have her back. We've cried buckets. We think it was just in time - she wouldn't have lasted much longer."