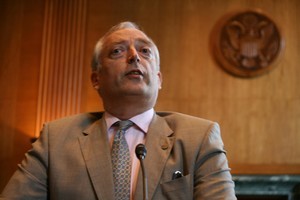 Climate sceptic Christopher Monckton says New Zealand groups appeared to try to censor his views during his tour, but adds: "I get this all around the world."
Viscount Monckton said the groups were terrified by his eloquence and his firm grasp of climate science.
An Auckland debate hosted by sceptical group Climate Realists failed to secure an opposing voice for the former journalist and politician.
Viscount Monckton was not disappointed but was disturbed by what he felt were attempts at censorship.
He said : "I don't demand that anyone should agree with me, or should listen, but that they should demand that I shouldn't be heard, that seems a bit too much like what used to go on in Germany before World War II.
"I get this all around the world. The more shrilly the media shriek at me and echo the greens and the communists and all the others who are having a go at me ...
then the more I suspect that either I'm getting all this catastrophically wrong, and I constantly keep that under review, or I'm getting it right, and I'm getting so close to the truth that they're finding it embarrassing."
The Northern Club reportedly received a spate of protest letters, urging the venue to turn Viscount Monckton away.
The publicity group which facilitated his speaking events, PRINZ, pulled out of hosting the Auckland leg, citing poor registrations but also heavy criticism from its members for giving Viscount Monckton a platform.
He addressed a members-only meeting at the Northern Club on Thursday and later a crowd of around 150 people at the Auckland University of Technology and a crowd of 100 in Wellington.
"It seems to me there are quite a few takers for hearing the other side of the story, particularly as the tour was thrown together by a group of people putting their own money in at a few weeks' notice," he said.
New Zealand scientists refused to debate with Monckton because they felt he lacked scientific credentials and was reigniting an old argument with "cherry-picked" facts.
Viscount Monckton described himself as a layman with a solid background in mathematics, and an exhaustive knowledge of climate science papers.
He also y had difficulties finding a podium in Australia.