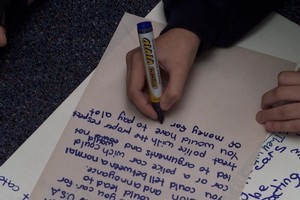 Tamaki Intermediate School has been told it will have close its doors in 2013 - while five other local schools will expand their rolls and become full primaries.
Education Minister Anne Tolley has been considering the future of Tamaki's schools since several local primaries applied last year to expand and provide education for students in Years 7 and 8.
The community was asked in April to consider several options for the future of the local schools, including maintaining the status quo, closing Tamaki Intermediate and putting some full primary schools back to just Years 1-6.
Yesterday, Ms Tolley said feedback from that public consultation made it clear there was a preference for full primary schools up to Year 8 in Tamaki.
As a result of the consultation, five primary schools would change from Years 1-6 to Years 1-8 and Tamaki Intermediate would close.
"The expanding rolls at these seven schools will have an impact on the already falling roll at Tamaki Intermediate, and therefore I have decided that Tamaki Intermediate School should close," she said.
The school's principal Tony Horan was not available for comment yesterday but board chairwoman Sylvia Fausett said an urgent meeting would be held to discuss what, if anything, could be done.
Mrs Fausett said the school received a letter only yesterday morning with the minister's decision and would relay that message to parents as soon as possible.
Earlier in the year, Mr Horan said the school's 144 students were proof the community was behind the school, despite the fact the roll is nearly half of what it was in 2008.
He said a survey last year found 87 per cent of parents wanted it to stay open.
A "Save Tamaki Intermediate" Facebook page was started this year, and many past and present students posted messages pleading for it to remain open. But it has not been enough to sway the minister.
Ms Tolley said the school had 28 days to respond to her decision with any further arguments in favour of staying open.
But, despite that appeal period the decision appears to have been made, as plans have been prepared for a gradual shutdown.
"This would take place in a phased way, with the intermediate school enrolling only year 8 students in 2012, and closure taking effect from 27 January 2013."
Tamaki school changes
* Tamaki Intermediate to close in 2013.
* Glen Taylor and Pt England Schools continue as Years 1-8.
* Glen Innes, Glenbrae Primary, Panmure Bridge, Tamaki Primary and Ruapotaka School all to change from Year 1-6 to Year 1-8 schools. They can enroll Year 7 students next year and Year 8 students in 2013.