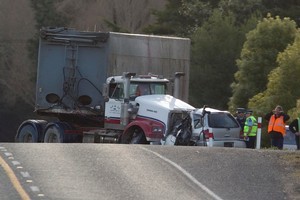 A man is dead following a collision between a truck and a car near Dairy Flat, north of Auckland.
Emergency services were called to the scene, on State Highway 17, just after 3pm.
Ambulance communications said the truck driver did not require treatment, but a man in his late twenties to early thirties was killed.
Team leader Keith Hall said the dead man was travelling alone.
Fire fighters were called as there had been a fuel spill and were also needed to retrieve the dead man's body.
Police blocked off the road for several hours while officers carried out a scene examination.
They were still at the scene yesterday evening, just over three hours after the accident happened.
Police were last night trying to locate the man's next of kin, before his name would be released.
The fatality takes the road toll to 161, the lowest it has been at this time of year for six years.