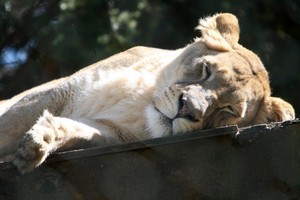 The battle for control of Zion Wildlife Gardens is heating up, with receivers for the park going to the High Court to get access after they were locked out.
Park operator Patricia Busch last week refused to open a gate for receiver Colin McCloy, saying she would do so only on the instructions of her lawyer.
Mr McCloy and fellow receiver David Bridgman then sought a court order that Mrs Busch give up possession of the park, hand over all keys and unlock all gates at the park for them.
Justice Edwin Wylie said Mrs Busch's actions prevented the receivers from doing their job.
She was wrong to lock the gates to keep the receivers off the property, he said.
The receivers succeeded in securing an order but the court directed they not remove Mrs Busch as the licensed operator for the care and welfare of the animals.
They were also ordered not to interfere in her duties as the licensed operator.
Rabobank, which appointed the receivers, argued that once appointed, they had the power, possession and control of the assets of the companyin receivership.
But Mrs Busch's lawyer, Evgeny Orlov, said that as far as he was aware this did not extend to the animals.
The Busch family had a licence to occupy the premises to look after the animals, he said.
The receivers were playing hard ball by blocking the park accounts, making it difficult for his client to care for the animals.
Mr Orlov said he had been unable to organise a discussion with the receivers or former operator Craig Busch.
Mr Busch has put an offer to the receivers, with options on how he would manage the park if he took charge.
The Ministry of Agriculture and Forestry is deciding whether to join Mr Busch, his mother, Zion and Country Developments in the High Court proceedings.
Acting deputy director-general Andrew Coleman said that if the receivers were allowed to move the animals, MAF would work with them and the zoo industry to seek their advice in securing the animals' future.
- APN