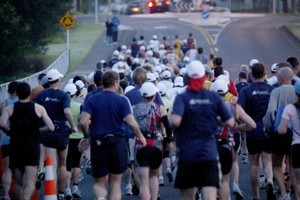 After months of stress and strain, running one of New Zealand's toughest road marathons might seem a cruel extra ordeal.
But organisers of the Lydiard Legend event in Auckland are offering free entry to their marathon next month for all Christchurch residents as a recognition of what they've been through in the past year.
The seventh annual running and walking event is being held next month in West Auckland.
The event includes a 5km, 10km, half marathon and full marathon option and this year is on track to attract record numbers, said event manager Aaron Carter.
"Entries are tracking really well but after the year Christchurch residents have had we felt it was the least we can do." said Carter.
Both the half marathon and marathon events follow the famous Waiatarua route in the Waitakere Ranges previously used by Arthur Lydiard to train his prodigies - including athletes such as Peter Snell and Sir Murray Halberg.
Carter said he hoped the opportunity of a free entry would help give Christchurch residents a positive reason to head north for a weekend, "perhaps even soaking up some of the Rugby World Cup atmosphere while they are in town."
The Legend event was the brainchild of Ian Winson, 47, a network engineer for Watercare, who was seriously injured in June when a gas explosion tore through a tunnel he and colleague Philomen Gulland were inspecting in Auckland.
Gulland, 48, was killed and Winson was blown out of the tunnel and lost part of both legs.
Winson created the Lydiard Legend Marathon in 2005 to honour running coach Arthur Lydiard.
Creating the race made a big impression on Zimbabwe-born Winson.
"It has given me a purpose and a sense of belonging in New Zealand," he told the Herald last year.
He set up the race - described of the toughest on-road marathons in the country - because he didn't want Lydiard or his course to be forgotten.
Despite it being a tough race, he was determined it wouldn't be for only elite runners.
"It's for anyone who puts in the right training, just as Arthur would have wanted."
Winson is chairman of the charitable trust that organises the race.

- HERALD ONLINE