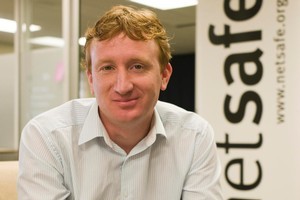 The chief executive of NetSafe, Martin Cocker, says the Law Commission's recommendation to protect people who have unwanted personal information put online by others is clearly needed.
Anyone who uploads images such as naked photos of an ex-partner is protected at present by an exemption in the Privacy Act for information held in connection with a person's personal affairs.
The commission recommended that this exemption should not apply when the information or its disclosure would be "highly offensive".
Mr Cocker said the unwanted publication of personal information was a challenge of the digital age, and the Privacy Act was ill-equipped to deal with it.
"It's an area we clearly need to update, because you shouldn't have the right to breach someone's privacy just because they were once your partner."
Mr Cocker said that while young people tended to embrace technology more than others, the sharing of intimate images cut across age groups.
Instances where compromising images of someone were put onlineby an ex-partner were common, he said.
"It often features as part of relationship breakdowns, even just the threat of it features in relationship breakdowns quite often - it comes up in bullying cases.
"Certainly it's increasingly common to produce images that you are comfortable with in a relationship, but are not comfortable with after a relationship."
The Law Commission also recommended that marketers be made to abide by a Do Not Call telephone register run by the Marketing Association.
The register allows more than 100,000 New Zealanders to state they do not want to receive marketing phone calls, but participation in the scheme by marketing companies is voluntary at the moment.
Keith Norris, the Marketing Association's director of public affairs, said New Zealanders signed up to the register would notice a real difference if it became compulsory.
"Most large organisations are already registered on the system.
"I think the major effect will be felt in small businesses who use the telephone to find new customers."
Mr Norris said companies in New Zealand using international call centres would still have to abide by the register if the commission's recommendations were adopted.