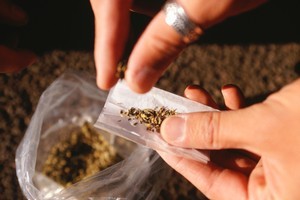 For a lengthy period, Peter Dunne was adamant that Kronic and other synthetic cannabis products were not about to be pulled from shop shelves. The evidence they were unsafe was not strong enough to go that far, he insisted. But now, the Associate Health Minister has had a sudden change of heart. Such things happen when general elections loom. Urgent legislation will allow all 43 current synthetic cannabis products to be classed as "temporary controlled drugs" and withdrawn from sale.
Two things, in particular, seem to have contributed to the Government's sudden burst of action. The first was the response when the Auckland Chamber of Commerce asked its members late last month if it should take a stand on legal drugs such as synthetic cannabis. Within days, it had more than 100 responses saying it should.
Many of these responses, said the chamber, came from members working in the health sector "who are witnessing the physical and mental damage caused by party drugs".
Of equal note was screening by Environmental Science and Research that found two of the synthetic cannabis products illegally contained a prescription sedative.
These developments echoed and added to a widespread public unease. The R18 products may have been made and sold in New Zealand for a decade, but for most of that time their use and sale has been low-key. All that changed when some manufacturers began selling their products in corner dairies and advertising them on mainstream youth-oriented radio stations. At the same time, health professionals have become more vocal about the number of young people seeking treatment after using synthetic cannabis.
Mr Dunne's clear preference has always been to adopt Law Commission recommendations that would reverse the onus of proof and require the industry to prove its products are safe.
In many ways, this is the ideal solution. But the safety threshold for products such as Kronic is a potential fish-hook. Determining this is a far more complex matter than assessing, say, the risks and benefits of a new painkiller.
To buy time, the Government has given Mr Dunne the power to make the products "temporary controlled drugs", thereby banning them for 12 months. During that time, products will be assessed by a committee, appointed by the associate minister, which will judge whether they are safe. This appears to be an effective catch-all mechanism, even if the manufacturers suggest it will not work because new products will not be identified by the authorities for some time. Sensible business practice and history suggest they are wrong.
The new law dictates that banned products must be removed from the shelves within seven days. It would hardly seem worthwhile, financially and otherwise, to devise and manufacture a product if it might be around for little more than a week. Equally, the result of the banning of BZP-based party pills points the way to a more likely outcome. Almost half of men aged 20 to 24 used these pills in 2006. Since their ban, the use of legal substitutes has been minimal.
That pours cold water on predictions that the estimated 500,000 users of synthetic cannabis will start buying genuine cannabis on the black market. Perhaps some will. In the eyes of most people, however, that is a more satisfactory state of affairs than young people being able pick up something that mimics the effects of cannabis with their milk and bread. Given the extent of understandable public unease, the only surprise is that it has taken the Government so long to act.