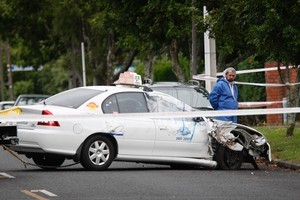 The Chinese man charged with murdering an Auckland taxi driver has told a Shanghai court he was sorry and asked for a lenient sentence when he appeared today.
Zhen Xiao, 24, faces trial for the murder of Hiren Mohini, 39, by stabbing him in suburban Mt Eden in January 2010.
Zhen fled New Zealand to China a few days after the stabbing and was arrested in June of that year.
While Zhen verbally agreed in court with some of the evidence against him today, that did not equate to a guilty plea, according to officer in charge of the New Zealand homicide investigation, Detective Senior Sergeant Hywel Jones.
He said Zhen had not pleaded guilty to a lesser charge than murder.
Under the Chinese Crimes Act there are different categories of murder and Zhen, from the time he was first formally charged some months ago, was charged with the category that reads - 'Murder - wounding with intent to cause death'.
"The judges will now deliberate on what they've heard in the first public hearing of this murder trial," said Mr Jones.
The case marked the first time a person accused of murder in New Zealand has been tried in another country. China and New Zealand do not have an extradition treaty.
Mr Jones said if convicted of murder Zhen faced a life sentence.
After Zhen was arrested in China, a deal was brokered between New Zealand and Chinese authorities that he would be tried there and police would hand over their evidence, on the condition Zhen would not face the death penalty if found guilty.
Today, Zhen told the Shanghai court he was sorry and asked for a lenient sentence.
He said that said on the night of the killing he caught the taxi and began chatting with Mr Mohini about working in a hotel.
Zhen said an argument began when Mr Mohini said there were too many Asian people in New Zealand taking the jobs.
The argument escalated after he refused to pay Mohini adequate cab fare.
Zhen said he reached for his knife because Mr Mohini was much bigger than him and he felt intimidated, but he did not mean to stab the taxi driver in the heart or to kill him.
"I did not mean to kill the driver. I am sorry for what I did. I am guilty,'' Zhen said, wearing a neatly pressed white cotton shirt and black pants.
"Please forgive me...I am still young, have no previous criminal record and am the only child in the family. I was scared of the result so I did not surrender. Please consider these reasons for giving me a lenient sentence.''
But Chinese prosecutors said Zhen purposely meant to hurt Mr Mohini.
"Although Xiao Zhen's act of violence was not premeditated, he meant to hurt the driver,'' state prosecutor Feng Zhiyu said. "What he did is a serious crime and the sentence should be more than 10 years to life in prison.''
Prosecutors said a lighter sentence would be considered if the victim's family forgives Xiao.
Mr Mohini's uncle, Ashok Mohini, who lives in Auckland, told NZPA the guilty plea was a relief for the family but he would have liked to see Zhen face the death penalty.
Zhen's aunt in China apologised outside the court for her nephew's actions.
Li Liping said her family has written a letter to Mr Mohini's family.
"There's a Chinese saying that if the son breaks the law, it is the father's fault. No one has the right to take someone else's life. We are deeply remorseful,'' she told TV3.
She had asked Mohini's family for forgiveness.
- NZPA