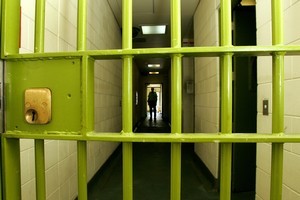 Two prisoners tried to strangle a female prison officer in an attempt to get her to open a door that would have allowed them to escape, says one of the woman's relatives.
The inmates escaped their cells in a low-security wing at Waikeria Prison, about 30km south of Hamilton, at 8.30pm on Saturday.
Brendan Horan, former television weatherman and New Zealand First candidate for Tauranga, questioned the standard of security that allowed the prisoners to kick out the ground floor window of their cell and scale a wall that did not have razor wire.
The inmates then confronted prison officers, hitting them around the head with an iron bar.
A male officer managed to secure himself in the guard room while the female guard, Mr Horan's sister-in-law, fled to a toilet.
There she activated an alarm code and locked herself inside.
The prisoners kicked down the door and tried to strangle her in an attempt to get her to open the door that would have let them out of the prison, Mr Horan said.
It then turned into a hostage situation until the prisoners were eventually talked down and she was released.
Detective Sergeant Ross Patterson of Te Awamutu police said the men would face serious assault charges and one of attempting to escape from prison.
"The investigation is still under way and we hope to have charges finalised in the next day or so when we have been able to interview the second victim and establish the full criminality of the two offenders," he said.
Corrections Association president Beven Hanlon said the metal bars used in the assault were made from items broken in the inmates' cells.
He said the escape attempt showed how ill-equipped prison staff were to deal with apprehending inmates.
The incident also highlighted the need for guards to be wearing stab-proof vests, carry handcuffs and pepper spray and to have access to Tasers.
Both prison officers were taken to hospital with injuries but Mr Horan's sister-in-law had been discharged.
Mr Hanlon said the other officer, who is still in Waikato Hospital under observation, was lucky to be alive having suffered serious head injuries.
- additional reporting by NZPA