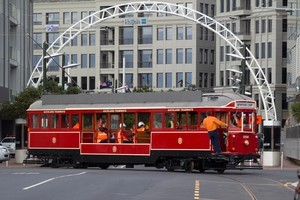 Aucklanders will see a new part of their city when the first stage of the Wynyard Quarter opens on Saturday. This week, the Herald features the seven public projects that form the core of the $120m development.
At 9am on Saturday, the first gleaming carnation-red electric tram will begin carrying passengers at the Wynyard Quarter development on the Auckland waterfront.
A pair of vintage trams, obtained from a transport museum at Bendigo, Victoria, and repainted in the colours of Auckland's former tram fleet, will run clockwise on a 1.5km circuit between Jellicoe, Halsey, Gaunt and Daldy Sts.
The Wynyard Loop, as it will be known, is the second heritage tram service in Auckland since commercial trams stopped running in December 1956.
The other service runs between the two Museum of Transport of Technology sites at Western Springs.
The Wynyard Loop trams were built in the 1920s for Melbourne.
The larger one, a 14.6m vehicle weighing 17 tonnes, has 52 seats and will be crewed by a driver and a conductor.
The other, which is 9.4m long and weights 9.4 tonnes, will carry up to 32 seated passengers and a sole-charge driver with an automatic stopping device as an extra safety feature.
The trams will be housed at a building in Pakenham St which has been refurbished at a cost of $339,000.
More than 80 people applied for nine part-time jobs as drivers and conductors, and are going through the final steps before Saturday, when seven projects worth $120 million at Wynyard Quarter are opened.
The trams will be operated by the company that ran the successful Christchurch tramway as a visitor attraction.
The service will run from 9am to 6pm, seven days a week and, depending on demand, from 9am to 9pm during the Rugby World Cup.
The ticket cost is $10 for a day pass for adults with up to three children under 16 travelling for free. Thereafter the cost is $5 a child.
A voucher in this month's Our Auckland publication from the Auckland Council provides a family pass for two adults and up to three children for $15 until November 6.
Auckland Council transport committee chairman Mike Lee says the trams are an important attraction for the Wynyard Quarter.
As well, he believes they could be the precursor of the development of a modern light rail system to Britomart and beyond. "That is the future. What this is really about is a point of difference and a feature that is sympathetic to the maritime and industrial environment in the Wynyard Quarter and one, I think, that will prove to be popular."
He was thrilled at how the $8 million project, authorised by the former Auckland Regional Council under his leadership, had come together without any Government subsidy.