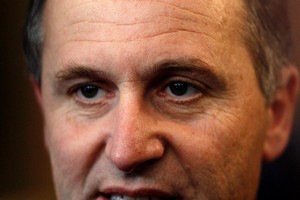 The deal struck in the United States to raise the debt ceiling might ease pressure on the New Zealand dollar in the short term but the underlying reasons for the high exchange rate will still be there, Prime Minister John Key says.
Speaking at his post-cabinet press conference just after the agreement in Washington had been announced today, Mr Key said the uncertainty in US financial markets had been putting enormous pressure on the exchange rate.
"But the reality is that the US still has a very heavy debt burden, quite sluggish growth and high levels of unemployment," he said.
"That is putting a lot of pressure on the US economy, and that is one of the reasons New Zealand assets have been re-rated and that position isn't changing...hopefully it will turn around."
The New Zealand dollar rose to a record 88.39 US cents today, before closing at 88.20 US cents, and Mr Key was asked whether he thought the Reserve Bank should intervene.
He said that was up to the Reserve Bank but his own views on intervention were well known.
"If you look at the track record of countries that intervened in their exchange rate, they have been spectacularly unsuccessful and there's no particular reason to believe New Zealand would be any different," he said.
Mr Key said everything he had learned in the last few weeks, particularly during his visit to Washington, was that the Government was on the right track in putting emphasis on debt management.
"New Zealand is actually better placed than many other countries to manage what will remain an uncertain global environment, despite the deal just done in the US," he said.
"We're getting on top of government debt by keeping it below 30 per cent of GDP and will be back in surplus by 2014/15 at the latest."
Labour Party leader Phil Goff said he had been really worried when the dollar approached 88 US cents this morning.
"What that does is put our export industries under real pressure, and that means job losses," he said.
Mr Goff said a chief executive in the timber industry had told him that if the dollar hit 90 US cents every sawmill in the country would be threatened with closure.
Mr Goff said it wasn't Labour policy to consider putting a tax on "hot money" that came into New Zealand because of the high exchange rate.
"I know it's something that other countries like Brazil and Chile are currently operating, that's something that might be given consideration in the future but it's not formally part of our policy," he said.
Mr Key said it was dangerous territory for a country like New Zealand which needed capital investment.
"If you put a tax on that you get into what is the definition of hot money and what is legitimate investment," he said.
"You run the risk of ultimately forcing up interest rates."
- NZPA