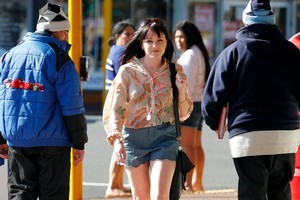 Summer has arrived - if only in the clothing boutiques.
Just as shoppers were wrapping their woolly scarves tighter and putting on another layer for the coldest day of the year, brightly-coloured shorts and summery cotton frocks were arriving in some big women's clothing chains like Glassons and Max.
The "end of season" winter sales have been in full swing: retailers are heavily discounting boots, jackets and thermal scivvies in a last-ditch bid to make room for more summer blouses and floaty skirts.
Some retailers have slashed prices by 70 per cent - jeans at Glassons were down to $30 this week and the "nothing over $20" racks had the last winter sweatshirts and cardigans hanging in a messy clutter. Pumpkin Patch also has a winter clearance sale on.
At Farmers the winter sales are over - the warmest item was a light cardigan.
Retail Association spokesman Barry Hellberg said the out-of-sync seasons were a side-effect of offshore manufacturing. "The lead time for a retailer to source and order stock is long," he said.
Orders to Chinese manufacturers had to be placed at least six months ahead and if the stock arrived early it would go on the shelves. "Retailers either hold it in warehouses, which can be quite expensive, or they put it out there for the customers to consider," he said. "Whether anyone's buying it is another question."
Fashion Industry New Zealand business advocate Mapihi Opai said the "fur coats in summer, swimsuits in winter" phenomenon was a worrying trend that put pressure on smaller retailers and caused prices to erode. "Each year over the past decade summer has come out a week earlier," she said "Then winter arrives on February 1."
Chain stores made it difficult for other designers to compete by starting the season early then discounting aggressively, she said. "The majority of independent retailers think it's mad but everyone feels compelled to follow."
Auckland-based designer Celine Rita Chapman said her Winter 2011 range was on sale but she was determined to keep her Summer collection under wraps until September. That said, she had already sewed samples for her Winter 2012 collection because Fashion Week had been brought forward this year to avoid the Rugby World Cup. "It's crazy how rugby has affected fashion," she said.
Men's fashion follows the change of season more accurately, a trend Smith and Caughey executive Terrie Cornelius attributed to demand. "Women like buying next season early, when they've got the best pick. Men just buy what they need now."
But even so, Hallensteins will start switching to summer stock tomorrow.
CHILLED OUT BEAUTY AMID THE BEANIES
Her legs bared to the cold, 22-year-old Danielle Warren seemed almost comfortable this week. The wintry sun took the edge off the chill, as she took a lunch break from work at a children's photography studio in Papatoetoe.
She was wearing denim shorts and a summer blouse from Glassons, both of which arrived in stock this week. She modelled them for the Herald on Sunday so we could see the reaction of others. The backward glances prove a point - those around her were clad in jackets and beanies.
Monday was the coldest day of the year but by Friday the weather was warmer.
WeatherWatch.co.nz analyst Philip Duncan said only a few centres reached double digits and most had temperatures between 4-8C.
Duncan said he would not buy togs any time soon. "We're still going to be having plenty of cold days," he said. "We're only just entering the coldest part of the year, which is traditionally July 15 to August 15."