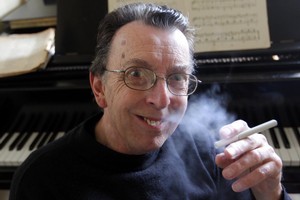 Meet John Key. He wants to ditch GST on food, impose tariffs on foreign imports and tax big earners mercilessly.
His former state house in Mt Roskill is just across town from the palatial Parnell mansion of the other John Key. But the two have so little in common that he might as well be a million miles away. "If I was Prime Minister I'd have a super-tax rate for anyone on more than $200,000 - 55 per cent at least," he says.
"I'd increase tax at the border on imported goods, to encourage New Zealand-made, and if you got pissed and had to go to hospital you'd have to pay for all the costs."
John, a jazz musician and piano teacher, flashes his big teeth. He might not be wearing an Italian suit but he has some of the charisma of his namesake. What does he think of the Prime Minister, anyway?
"He's smarmy. How did he make those millions? Trading. That doesn't make him a financial genius.
All he does is take from the poor and give to the rich."
John's political outlook emerged in his younger days on the jazz circuit, when he played in the Rodger Fox Big Band and put out two albums with the band Strange Fruit. The beaten-up baby grand piano in the corner of the room looks like it's had plenty of tunes thrashed out of it. But his music has been recently eclipsed by a new passion - electronic cigarettes. He's been puffing on one throughout the conversation.
He said he'd tried everything: patches, lozenges, cutting back, cold turkey. At age 59, John was introduced to Smoke Stiks, an American brand available on the internet.
"I've got something to hang on to. I've got something to puff on," he said. "That's what most of the smoking habit is, having that nicotine hit the back of your throat."
Like his Parnell counterpart, he threw himself into a new career - marketing and selling the electronic cigarettes with little red LEDs on the end.
Despite the hype, the product falls into a legal grey area: The Ministry of Health says it can be sold in pharmacies "as a gadget which consumers may choose to use as a social prop or as an item which is to be used interchangeably with cigarettes".
As long as it is not marketed as "a way to give up smoking" it can sidestep the lengthy MedSafe approval process. Individuals can also buy it over the internet, as John does.
A starter kit costs $130 and a five-pack of nicotine cartridges - enough to last at least a month - is about $30.
Funnily enough, the other John's economic management is working in his favour right now. "With the dollar the way it is, the price is coming down. It's great."