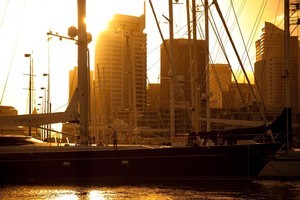 Superyachts are worth an enormous amount to the New Zealand marine industry and the whole economy.
When one of our superyacht-building boatyards secures a contract to create one of these floating sensations, the payoff is huge. Not only will the owners spend tens of millions of dollars here, they will also contribute to the employment of hundreds of craftspeople and trainees and help keep afloat subsidiary suppliers: engineers, painters and paint suppliers, sparmakers and even clothing suppliers.
It is a similar story when a superyacht comes here for a refit. These are often major, multimillion-dollar affairs, providing work for dozens of Kiwis, often for several months at a time.
Given this level of importance, it is not surprising that local marine industry organisation NZ Marine and its export arm, the NZ Marine Export Group, are doing their best to take advantage of the Rugby World Cup and its ability to lure superyacht owners and captains to our shores.
Part of that strategy has been to reschedule the Auckland International Boat Show from its usual March date to September 15-18, around 10 days into the tournament. Another facet has been to create a new event, especially for captains of superyachts, to be held at the same time as the show.
NZ Marine executive director Peter Busfield says the Superyacht Captains' Forum recognises that these captains have a huge influence over where the superyachts they helm choose to visit, where they go to have their refits and even where their replacements are built.
"While the advantages of cruising around the South Pacific and undergoing a refit here are obvious to us, we have to recognise that New Zealand and the South Pacific are a long way from the traditional superyacht cruising grounds in the Mediterranean and Caribbean.
"The Superyacht Captains' Forum will be our chance to showcase this part of the world."
The industry will also use the forum as a chance to find out more about the facilities these ever-more technologically advanced vessels are likely to require in the future.
"Superyachts have developed hugely in the last 20 years and will continue to evolve," says Garry Hassall, chairman of the Superyacht Captains' Forum committee.
"They represent a fascinating, sometimes challenging industry and the forum presents us with a rare opportunity to gain important insights about what the ultimate superyacht facility might look like."
Hassall says the forum will also provide networking opportunities for the captains and will be an ideal preparation for those planning to bring superyachts to New Zealand.
"We will cover refit work in New Zealand, cruising New Zealand's coastline, racing in the Millennium Cup next February and enjoying the Volvo Ocean Stopover in Auckland in March."
The forum will be led by Peter Montgomery as master of ceremonies and feature an impressive line-up of speakers. These will include Max Cumming (captain of the 90-metre, three-masted schooner Athena and one who has transited through the North-West Passage, sailed to Antarctica and completed a circumnavigation on Sir Douglas Myers' Senses); top dive instructor and private luxury yacht guide Rudolphe Holler; experienced maritime and marine insurance lawyer Matthew Flynn; and MetService weather ambassador Bob McDavitt.
There will also be a comprehensive social programme including a welcome cocktail function, a forum dinner in The Cloud and a match race in the 11-strong MRX fleet, before a chance to watch the New Zealand versus Japan World Cup game at the Royal New Zealand Yacht Squadron.
Those involved in the superyacht industry, especially designers, boatbuilders and engineers, will also have another opportunity to gather in Auckland before the end of the Rugby World Cup. On October 12-14, immediately before semifinals weekend on the 15th and 16th, another forum, Superyacht InnovatioNZ, will be held in the new Viaduct Events Centre.
Run by Superyacht Events, a division of The Yacht Report Group, Superyacht InnovatioNZ will, according to events director Georgina Lucey, attract 120 delegates.
"They will spend two full days brainstorming and creating innovations and ideas that can ultimately improve and develop more efficient, logical, intelligent and profitable ways of building and operating large yachts."
Discussions will focus on disciplines including design and engineering; IT, AV, communications and electronics; propulsion, systems and operation; and business investment.
Captains' Forum
Where: Viaduct Events Centre
When: September 15-16
More info: nzmarine.com
Superyacht InnovatioNZ
Where: Viaduct Events Centre
When: October 12-14
More info: superyachtinnovationz.com.