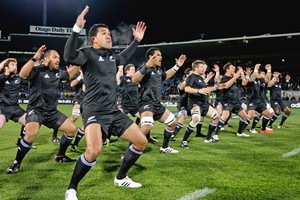 A new All Blacks jersey will be revealed tonight when the All Blacks run on to Wellington's Westpac Stadium to face the Springboks.
The redesign has been a closely guarded secret, although a version of the white collar of old is believed to be included, with the jerseys becoming even more skintight.
The Weekend Herald asked three top fashion houses to assume they had stumped up the millions needed to supplant adidas as the official jersey maker and sketch their own redesign.
Neville Findlay of Zambesi said that as a keen All Blacks fan he would make minimal changes, the most radical being to print "Aotearoa" across the front of the jersey.
"The All Black jersey doesn't need to say New Zealand because it's so much a New Zealand thing.
"But I feel there should be a nod to the indigenous culture somewhere, because they take so much from it."
The sponsor's logo would be replaced by the player's selection number, but could be included on the arm if absolutely necessary.
"I think [the sponsor] would gain a lot more kudos by staying off the jersey, because it's kind of sacrosanct."
But while Findlay was happy to hypothetically redesign the jersey, he said such a task would be daunting because of the garment's status:
"I wouldn't want the job".
Francis Hooper of World said its merino jersey was based on the 1905 Originals jersey, but was also a comment on the modern game.
While he applauded Dan Carter and other players for earning money from the game, professionalism had resulted in "disgusting" and characterless modern jerseys.
"If you go back and just see how beautiful the 1905 uniform was, with that big applique silver fern, proud and huge and beautiful.
"Now it's just digital, it's hideous, it's like a logo - so it doesn't offend the advertiser or the sponsor.
"It's just very sad."
Huffer's Justin Souter said its jersey was stonewashed to recreate "those days when your mum pulled out your favourite rugby jersey and it was so stiff from all the chemicals to rinse out muddy stains".
The silver fern had been replaced by a second sponsor's logo - a change adidas is unlikely to be sending out on to the field tonight.