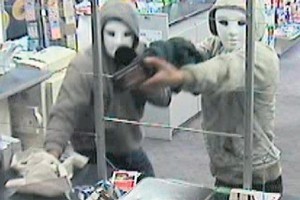 A guilty verdict for one of the so-called "Casper" robbers who held up two Bay of Plenty businesses has come as closure for their traumatised victims - one of whom had a sawn-off shotgun aimed at his head.
After a week-long trial in Tauranga District Court, an 11-member jury yesterday found 18-year-old Desmond Galvin-Taikato guilty on two charges of aggravated robbery and one of dishonestly getting into a motor vehicle.
The men involved in the armed robberies of Te Puke Jewellers and Katikati Paper Plus & Post Shop on July 24, 2009, were dubbed "Casper the ghost" robbers because of the distinctive white masks they wore.
A tray of rings was taken from the jewellery store where owner Rod Pearce was assaulted before the group sped away in a stolen black Nissan Skyline.
Less than three hours later, men wearing hoodies and white masks held up the Post Shop while another stayed in the vehicle acting as look-out.
Shopowner Dennis Jensen said one of the men slid over the counter and approached him at the back of the store, swearing at him and ordering him to open the safe.
"I turned around - I'm a reasonable-sized man - and I moved towards him. He backed off and went back out the door behind the counter, which is in a locked-in area, and that's when I realised the guy on the other side of the counter was pointing a shotgun at me," he told the Weekend Herald after yesterday's verdict.
"That's when I just stopped dead in my tracks and thought, 'That's the end of the road, I'm not moving."'
Mr Jensen described that moment as the most terrifying of his life.
"It'll always be there with me, God yes."
The robbers drove off in the direction of Waihi and the next day two white masks were recovered in Trigg Rd North, Waihi.
The shotgun used in the robberies was later found in the samearea.
Between July 17 and July 24, 2009, a white Nissan Legume worth $15,000 was also stolen from an address in South Auckland. It was found in Mark Rd, Te Puke, with some items belonging to the owner of the stolen Skyline inside it.
Mr Jensen said it was "disappointing" the robbery happened in close-knit Katikati.
He also said he was happy with the verdict.
Mr Pearce, whose face was grazed during the robbery in his store, was also satisfied with the verdict and said the traumatic incident had been hanging over him and his wife, Jannine, for two years.
"It was incredibly upsetting. It was a huge shock to the system - not only for myself, but for my wife as well, as we were the only ones in the shop. It impacts on you for quite a long time and you're suddenly wary of people when you never used to be," he said.
"You feel vulnerable, it's quite upsetting and it's hard to get back to normal. You come to work to serve your customers, you don't expect to get robbed.
"We haven't experienced anything like that before and we hope we never will again."
Yesterday's verdict came after charges against Galvin-Taikato's co-accused, 22-year-old Rotorua man Harley Adlam, were dropped on Thursday.
Haere Tawhiti Rex Maney, 22, of Rotorua, and Rehua Rakapa Karika Ferris, 19, of Manukau were convicted in October 2009 in relation to the robberies.
Galvin-Taikato will be sentenced on September 13.