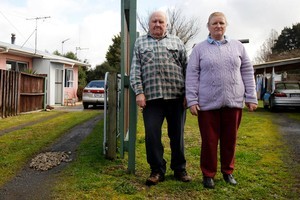 As best he can remember, Richard Tudor can't recall any threats between his neighbours or any inkling their rows would one day prove fatal.
One of the retired stonemason's neighbours was Diane Elizabeth White who lived in a small unit next door.
She died on January 20 last year when another neighbour, whose name is suppressed by the courts, fled the Henry Rongomau Bennett centre, a mental health facility, and killed her with a hammer.
The 41-year-old mother-of-two, whom he described as "a bloody nice lady" pleaded guilty to the murder this week in the High Court at Hamilton.
"It's just a bloody tragedy - for the both of them," said Mr Tudor.
He said while Ms White could be difficult "no one ever wanted something like this to happen".
"There were never any threats, she [the killer] never told us what she was going to do, it's a bloody sad story."
But he said problems between his neighbours began after the killer moved into Blackburn St in Frankton in early 2009.
Ms White and the killer, who is deaf, would argue, he said, with the former saying "nasty things".
"She would really wind her up but she probably didn't realise that she could lip-read."
"Anything she did wrong they were on her straight away. She [Diane] was constantly calling the police and her caregivers ... in the end I don't think she wanted anyone in the house next door."
Mr Tudor said he befriended the killer, who would scribble notes to him as she was deaf.
He said the woman was trying to find another place to live because the $250 rent was too much.
"But she didn't have any luck finding a place even though her caregivers were trying to get her out of there ... it seems even more sad now."
Another neighbour, who asked to be known only by her first name Jojo, said the killer taught her and her children sign language.
Jojo said the woman told her she would occasionally check in to the centre and that she was on medication.
While she would hear of her problems with Ms White she never thought it would escalate.
But Jojo believes her tipping point came when CYF took her baby away for reasons unknown about a week before the attack.
Jojo was at home when her friend came around, dressed strangely and in an agitated state, on the day of the murder, not realising she had fled the centre.
'She wrote on a piece of paper: "I'm going to go and kill Diane".
Jojo said to her "nah, don't be stupid."
"I thought "should I just run across the road to [Ms White's partner] Gary's house or tackle her?"."
Within an hour, Jojo called the Henry Rongomau Bennett centre three times for help.
Her third call prompted a response that surprised her: "The woman there said 'if you are so worried why don't you call the police yourself ?"'
The killer left Jojo's house and went to another neighbour's where she borrowed a hammer.
She came back to Jojo's not long after.
"I could see the blood and her t-shirt was all yucky. I told the boys 'don't open that door' and she was banging and banging but I didn't want to look.
"It still makes me cringe that she wanted to come back here.
"I grabbed my grandson and put him on my son's bed and told him 'hold him son, something is going on'."
Police arrested the killer not long after the incident.
Waikato District Health Board spokeswoman Mary Anne Gill said as the matter was still before the court she could not comment on the case or how the centre responded.
"However the public can be assured we have conducted our own investigation into this as part of our serious and sentinel event reporting process," she said.
Dairy owner Ajit Farrar said the killer often came by, occasionally bludging roll-your-own cigarettes from his shop.
"Sometimes she came in here crying because of an argument with Diane and that her baby had been taken away.
"One day she came in here and said she wanted to kill her."
Jojo still feels for her friend, whom she said was "a good mum" but was stressed by her circumstances.
"If someone took my baby I'd be angry too, you ask any woman that."
The woman will appear in the High Court at Hamilton for sentencing in September.