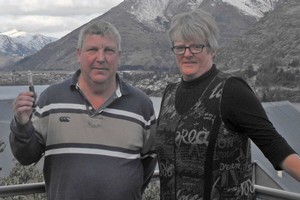 A couple were stopped by security guards from taking an insulin pen into last week's All Blacks test match in Dunedin because it was deemed a "dangerous weapon".
Queenstown real estate agent Beth Chisholm said she kept the insulin pen and a blood tester in her handbag for her husband Steve, a type-1 diabetic and "never, ever" went anywhere without it. The couple had been to many games at Carisbrook and never had an issue with the insulin pen.
The security guards found the insulin pen when they checked Mrs Chisholm's handbag as the couple entered the ground. She stressed to them the importance of having the medication at hand at all times.
She was told by the guards her husband "needed to eat prior to the game", that there would be first aid posts within the venue which would have insulin for anyone needing it, and that they should always carry sweets in case the diabetic had a "low".
They took the insulin pen to their car, but during the game Mrs Chisholm checked at a St John first aid post to find they did not have the insulin her husband needed.
"This is of great concern to us, not only for other insulin-dependent diabetics, but also those people who need to carry EpiPens for allergic reactions. It is not always easy to find a first aid post when you only have a short-time frame in order to administer medication."
Diabetes specialist Professor Jim Mann said yesterday it was "ridiculous" someone should not be allowed to take their insulin pen into a rugby match.
"In my 35 years, or more, as a specialist in the area of diabetes, I have never heard anything so ludicrous. I hope you are going to write it up as a farce."
A St John spokeswoman said qualified staff working at matches did have medication for administering case of diabetic lows. St John was unaware that people were not allowed to bring insulin pens into match venues, she said. Rugby authorities were also surprised to hear of the incident.
Richard Reid, the general manager of the Otago Rugby Football Union, which hosted the game, described it as "very unfortunate" and said security processes would be reviewed as part of a general review of how the test match went. He said the union provided the security as part of its contract with the New Zealand Rugby Union.
Before the match it was agreed with Rugby World Cup organisers that security company ADT Armourguard would provide security at the game under Cup rules, as a practice run for the upcoming tournament.
He did not know what specific rules the security company followed when it came to determining what was considered to be a weapon, but would be surprised if it was its policy that insulin pens were considered a weapon.
The Chisholms' experience was "very odd", Mr Reid said.
He hoped guards would check with superiors when a ticket holder said a needle was for insulin, and was concerned security staff appeared to be advising people they did not need insulin because it was available on the grounds.
"Clearly, these things are never deliberate. We don't set out to deliberately upset people, but from time to time we do have issues with people working at games and we apologise about that."
If the Chisholms wanted to contact him the union was more than happy to have them as its guests at next month's Otago Southland game, he said.
NZRU general manager of public affairs Nick Brown said it was not the union's policy to stop people taking insulin pens to games and the incident was "unusual".
A Rugby World Cup spokesman said this appeared to be a case of an "overzealous individual" trying to do the right thing, but getting it wrong.
The health and safety of all of its fans was a priority for Rugby NZ, and certainly people who needed medication with them at all times should be able to take it in with them.
- OTAGO DAILY TIMES