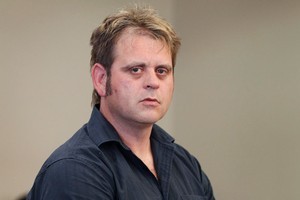 Former radio DJ Iain Stables says he is still waiting for an apology from Jetstar after he was punched in the head at Auckland Airport.
The scuffle happened after Stables missed a Jetstar flight from Wellington to Auckland last year.
A charge of disorderly behaviour against him was dropped in the Manukau District Court yesterday.
Police prosecutor Sergeant Paul Watkins told the court that "taking into account justice, fairness and parity, this matter does no longer warrant the intervention of the law".
Jetstar contract worker Patrick Joseph Ulberg was found not guilty of assault last month. He is now back at work with Jetstar contractor SkyCare but not in a frontline role.
But Stables said he was still waiting to hear from Jetstar after lodging a complaint soon after the scuffle.
"Basically, it is hard to get any accountability or response from anyone.
It's basically a never-ending loop of trying to get someone in charge."
Jetstar spokeswoman Andrea Wait was asked if there would be an apology. She said the airline considered the matter "resolved".
Stables said he has been through "the wringer" since being charged.
He had a new contract with The Radio Network at the time but that was terminated after the disorderly charge was laid.
"I'm a victim of time. The Paul Henry thing was happening, Tony Veitch had just gone back on air. The media were taking a hammering and I looked like s***."
Stables has been on the radio since he was 17 and all he wants to do is to get back behind the microphone.
"Who knows? I'm not the first broadcaster to get into trouble."
The trouble started when he turned up to the Jetstar counter late and was told he could not get on his flight.
At Mr Ulberg's defended hearing, Stables told the court that he had remarked: "You guys are a loser airline. You're a loser from a loser airline."
The police alleged that he made a racist slur and flung a portable radio before being punched in the head.
Stables denies making racist comments. He told the court that Mr Ulberg threatened him before attacking and he received a "constant attack to the head" and was punched again while on the ground.
CCTV footage showed Stables sweeping bag labels off the counter and throwing a radio at Mr Ulberg.
"That in itself is an assault," Judge Hobbs said.
He said Stables was more than a disgruntled customer. "He was aggressive and abusive."
Judge Hobbs said an independent witness, Manish Patel, standing two metres away, saw Stables "mouthing off" before throwing something.
"Mr Patel said he saw the defendant connect one or two punches to the face area."
Judge Hobbs said he could not be satisfied beyond reasonable doubt that Mr Ulberg was not acting in self-defence.
Prosecutor Mr Watkins commented outside the court: "Both Mr Stables and Mr Ulberg behaved appallingly at the airport."