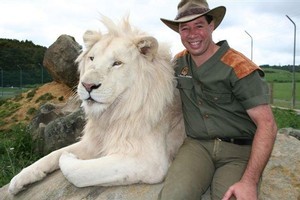 Craig Busch, founder of the troubled Zion Wildlife Gardens north of Whangarei, wants to buy back control.
The world famous park was put in receivership this week with debts believed to be $2 million. The move raised questions about the future of the 37 big cats which include lions, tigers, servals, cheetahs and a leopard.
Mr Busch, known as the Lion Man after the television series shot at the park sold around the world, was in Africa and not available for comment but a spokeswoman said he had financial backing and wanted to regain control of the park.
The park was owned by a company called Country Developments of which Mr Busch was a major shareholder, said his spokeswoman, Jill Albrow.
She said in 2006 he signed over the voting rights to his mother Patricia Busch but now wanted to regain control.
"He has the shares but not control of them."
She said he had already been granted an injunction to protect the cats, meaning they could not be disposed of or euthanased without the consent of a High Court judge.
She said documents already existed that showed the cats were Mr Busch's and had never been the property of the park. She said a trust also existed to look after the welfare of the cats.
"Craig has the experienced personnel and financial resources to take back the park immediately from the receivers and re-establish the Lion Man and cat breeding programme in New Zealand.
"Craig is prepared to discuss with the receivers on any day at any time to arrange for this to happen," she said.
The receiver Colin McCloy from PriceWaterhouseCoopers could not be reached for comment.
The park said earlier this week its income had been drastically reduced by the withdrawal of wildlife encounters and legal disputes.
- NZPA