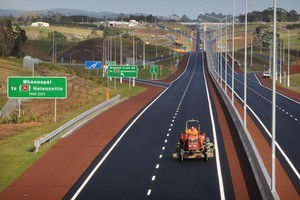 West Auckland and North Shore will be more closely linked when 9km of new motorways open around Hobsonville and Westgate at the end of next week.
The Transport Agency hopes the weather will allow it to open the two new sections of State Highways 16 and 18 on Sunday August 9.
Prime Minister John Key will lead a ceremony on the Saturday to mark the completion six months early of the $220 million project, plugging one of the last remaining gaps in Auckland's 48km western ring route.
The project's main feature is a sweeping motorway-to-motorway interchange at Westgate, where a 10-metre cut has been made under a new bridge for Hobsonville Rd.
Traffic on the road - ranked one of the nation's most dangerous with many intersections - is forecast to shrink from 40,000 vehicles a day to just 6550 once the main 6km section of motorway opens between Westgate and the Upper Harbour Bridge at Greenhithe.
Combined with the 5.5km motorway section from Greenhithe to Albany, which opened in 2007, it will provide a seamless link between West Auckland and North Shore.
The Westgate interchange also marks the start of a 3km extension of the Northwestern Motorway.
But although there will be east-facing ramps for vehicles heading to North Shore, traffic from the north will have no direct link to the Hobsonville motorway, disappointing residents of communities such as Kumeu.
The Transport Agency says the best it could do within its budget, and until traffic volumes grow around a new urban centre at Massey North, is to "future-proof" the interchange for potential north-facing ramps.
Senior project manager Rachel Kirk yesterday said the main new link would not provide a cure-all for congestion woes.
There was likely to be some morning queuing to reach the Northwestern Motorway from Hobsonville and similar congestion in the opposite direction in the afternoon peak.
But Ms Kirk said the agency was hoping for travel time savings of up to six minutes in each "tidal" peak direction, compared with the existing crawl along Hobsonville Rd for long-suffering commuters.
She also predicted major safety gains from taking large volumes of traffic off what was ranked the sixth most dangerous stretch of road in New Zealand.
Upper Harbour Local Board chairman Brian Neeson said the project was the best thing to happen to West Auckland for years.
ON THE WEB
nzta.govt.nz/projects/hobsonville