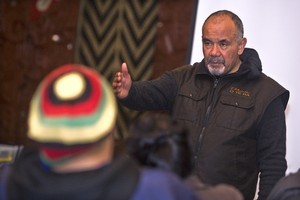 Maori Party MP Te Ururoa Flavell is standing by controversial remarks about attitudes towards suicide victims but says it is up to others how they handle the problem.
In a Rotorua Daily Post newspaper column the Waiariki MP said a "very hard stand" was needed on suicide.
"If a child commits suicide, let us consider not celebrating their lives on our marae; perhaps bury them at the entrance of the cemetery so their deaths will be condemned by the people," he wrote.
"In doing these things, it demonstrates the depth of disgust the people have with this. Yes it is a hard stance, but what else can we do?"
The comments have caused upset but Mr Flavell said he just wanted to highlight the issue.
"I stand by the fact... that I put it out there, that that was one way that some people deal with it," Mr Flavell told NZPA.
He said his comments needed to be taken in the context of the whole article.
"The article was written out of sheer frustration about what we do about suicides in our community and in particular it struck me because of the number we've had in my own electorate."
He said it was up to members of the marae what they did and he was not saying they should follow his advice.
"What I said was, 'gee we've got to look at other ways to stop the epidemic, whatever that might be. One way might be to take a harder line on marae, there might be other people that have other scenarios that they can put up'."
Mr Flavell said he'd been told some marae already treated suicide victims differently and had buried them in separate parts of cemeteries.
He said there had been a spate of youth suicides in the Bay of Plenty.
His views have upset Auckland mum Maria Bradshaw whose teenage son Toran Henry killed himself in 2008. She is a co-founder of Community Action on Suicide Prevention Education and Research (Casper).
"In our view that's absolutely disgusting to suggest [suicide victims] and their families should be abused," she told the New Zealand Herald.
"If [Mr Flavell] could witness the suffering that is experienced by families who have not been allowed to perform traditional burial rites...the pain is absolutely intense."
Ms Bradshaw said she planned to meet Mr Flavell.
- NZPA