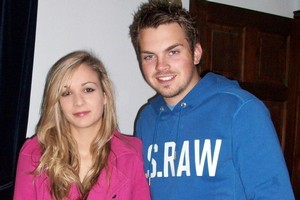 An English couple left with nowhere to stay during the Rugby World Cup after a lodge cancelled their booking have found alternative accommodation, thanks to Herald readers.
More than 65 people offered free or cheap accommodation to Kieran Lean and his girlfriend Chantal Hyom, both 19, after their plight made the Herald's front page last month.
The couple have chosen to take up an offer from Abacus Unitel KDV lodge, just 400m from Eden Park.
Mr Lean said although many people had offered rooms for free, they decided to stay at the lodge because they didn't want to burden anyone.
"But we've kept in contact with a lot of the people, and we're going to meet up with them when we're over, and go out with them and have something to drink or something."
Mr Lean's mother, Mandy Lean, first contacted the Herald after efforts to get Bond St Motor Lodge to honour her son's booking failed.
She said the couple were "buzzing with excitement" now that their accommodation was finally sorted.
"Kieran, Chantal and myself would like to thank the amazing people of New Zealand for their incredible kindness and support in offers of accommodation to help them."
Abacus Unitel KDV lodge manager Warren Parker said he was "pretty bloody upset" to read of how the couple had been treated.
"We'll try and show them that not all Kiwis are no good. We're just pleased we can help them."
The couple had booked a three-week stay at Bond St Motor Lodge in Kingsland at a rate of $278 a week.
Four months later, lodge management said the booking would not be honoured unless they paid $350 a night.
They will pay only $240 a week for their new accommodation - which is closer to Eden Park and has an ensuite.