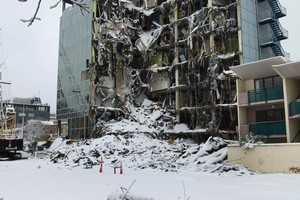 The big clean up is well underway across the country following yesterday's record snowfalls in what may well end up being the coldest day of 2011.
Most state highways have now reopened and city councils in Dunedin and Christchurch have set about clearing most of the local roads of snow and ice.
Snowfalls made way to harsh frosts this morning, particularly in the South Island, although some snow is expected on Arthurs Pass, Milford Rd and the Desert Road later today.
Westerlies are forecast to strengthen over the South Island today, with heavy rain forecast of the west of the country, however temperatures are forecast to pick up following a frigid past few days.
WeatherWatch head analyst Philip Duncan said yesterday may well have been the coldest day of the year.
The national high was just 12 degrees recorded in Northland yesterday.
Only several centres reached double digits with the majority of the country reaching single digit highs, mostly between 4 and 8 degrees.
Mr Duncan said it was unlikely the country, overall, would be as cold for the remainder of 2011.
"Clearly we can't completely rule out the possibility of another major polar blast but with temperatures soon about to rise with longer sunlight hours and spring just a few weeks away it would be surprising to see another outbreak as bitterly cold as this one."
Roads begin to reopen
State Highways around the country have reopened this morning as road crews have cleared snow and ice and gritted the roads.
NZTA said SH1 from Taihape to Waiouru, SH49 from Waiouru to Ohakune, SH2 from Nuhaka to Gisborne, SH2 at Rimutaka Hill and in the South Island SH87 from Outram to Middlemarch have now reopened.
SH1 from Waiouru to Rangipo, SH35 at Waipiro and SH85 from Palmerston to Kyeburn remain closed.
In Christchurch, Dyers Pass and Summit roads remain closed, while many hill roads have not yet been cleared of snow and four-wheel-drives are still required.
In Dunedin, main arterial routes are back open but many streets around the city's hillside suburbs remain treacherous.
Dunedin City Council communications manager Rodney Bryant said people must drive to the conditions.
"Some of the roads are clearer now, but it's only the main ones, if you can get to the main roads, then it's not quite so difficult."
Despite the icy roads, neither the police or the Fire Service reported any significant accidents due of the conditions.
Up to mid-morning today only eight traffic incidents in Canterbury had been reported to police, with no serious crashes.
However continuing low temperatures mean snow and ice will be slow to clear completely and drivers should remain cautious, particularly in shaded areas.
Christchurch Airport has resumed flights this morning after cancelling all arrivals and departures yesterday. Delays continue at Dunedin and Queenstown.
Travellers are still asked to check with their airlines before coming to the airport.
Snow makes way for ice
The MetService this morning lifted all snow warnings, which had been in place for Taupo, Wanganui, Manawatu, and Taihape, as snow showers have now cleared in the central North Island.
However as the skies have cleared, severe frosts set in, particularly in the South Island.
MetService forecaster Peter Little said in the South Island, it is expected to be fine - but showers are forecast in the west, with snow expected down to 600 metres.
"Further south, there's some fairly severe frosts inland over the South Island. It's been down to around -10 in Manapouri," he says.
WeatherWatch.co.nz reported severe frosts in southern centres this morning, with the mercury dropping to -8 in Queenstown, -7 in Timaru, and -5 in Christchurch.
From red zone to white zone
Christchurch's central city red zone has reopened to contractors for demolition work, however it remains closed to trucks, building inspectors and building access.
Christchurch Earthquake Recovery Authority chief executive Roger Sutton said the priority is to keep workers safe.
"It's obviously just dangerous moving around in there. If there had have been a big shake and everyone's trying to run out of the way, running is more difficult and driving is more difficult and buildings may have been weakened, so we're just being cautious," he says.
CERA advises people living in homes with significant earthquake damage and snow on the roof to check for leaks and movement and consider evacuation.
Record snowfalls
Yesterday saw the most widespread snow since 1995, with snow driven by a cold southerly falling from the southern tip of the South Island to Waikato, including in unusual spots such as Nelson, Palmerston North and the Kaimai Ranges near Tauranga.
The snow blanketed Christchurch in white.
The city had the heaviest snowfall, dumps of 30cm and 15cm disrupting electricity, transport, health and education services.
The University of Canterbury reopened again this morning at 11am after closing yesterday. Christchurch Polytechnic Institute of Technology remains closed for a second day.
Orion Energy said damage to overhead lines cut power to at least 2000 Christchurch homes. Power has now been restored to almost the entire network, with only a handful of Tai Tapu customers still without power this morning.
Elective surgery and outpatient clinics at Christchurch Hospital were cancelled.
The St John ambulance service was called to 24 incidents in the South Island - eight in Christchurch - in which people injured themselves by falling on ice or snow.
Bus services have also been affected, with many runs cancelled. Metro hope to get some buses back on the road from 11am.
Later in the day, the cold air moved north, bringing snow flurries to Wellington. Some snowflakes drifted on to downtown Lambton Quay.
MetService said Greytown, in Wairarapa, had its first snow in 70 years.
Weather ambassador Bob McDavitt said the record cold was caused by a southerly push arriving at the coldest time of year and in an uninterrupted flow from the Antarctic.
"The coldest days usually come in late July," he said.
"But what is unusual is that ... this cold air has managed to bring snow to widespread areas ... and to places that haven't seen it for 15 to 20 years or more."
Federated Farmers adverse events spokesman David Rose said fortunately the snow did not come during lambing or calving.
"It's winter and spring that concern us the most," he told Radio New Zealand.
"Winter [weather] in winter is okay and we do have plans in place."
National Institute of Water and Atmospheric Research climate scientist Georgina Griffiths said the temperature at a weather station in Whangaparaoa, north of Auckland, dropped to 4.5C.
Dr Griffiths said that the last time it snowed in Auckland, in June 1976, the temperature was between 4C and 5C.
BIG CHILL
* First snow in Greytown, Wairarapa, since the 1940s.
* 45cm of snow in central Christchurch.
* Light snow in Nelson, Motueka, and Wellington.
* Airports, roads, hospitals closed, power cut.
* Coldest July day on record in Banks Peninsula (-1.2C).
* 12cm of new snow at Turoa skifield; -10C on upper slopes.