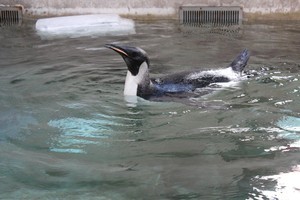 It may have been cold enough for a long swim, but Happy Feet the penguin will not start his journey home until he has first-class travel booked to a release point in the Southern Ocean.
He weighs about 26kg and is healthy enough to be released, but the Department of Conservation is still looking for the best travel choice, which would ideally provide conditions of 0C, said Wellington Zoo veterinary science manager Lisa Argilla.
The juvenile bird won global fame when he turned up on Peka Peka Beach, north of Wellington, last month. The penguin has since had various procedures to remove sand, sticks and rocks from his stomach.
Aside from his weight, the penguin's travel-readiness also depended on his body condition, personality and demeanour, all of which were normal, Dr Argilla said.
"There are a lot of factors we need to consider just to keep him safe on the journey, so we just need to work through that and make sure we take him down south and have a successful release.
"We are not prepared to rush that, obviously - because if you rush it, it's going to go wrong."
Happy Feet would be taken from Wellington to Invercargill either by air or in a refrigerated truck, DoC biodiversity programme manager Peter Simpson said.
A boat leaving Bluff, 27km south of Invercargill, would take him to a point past Stewart Island where he would start his swim of more than 3000km.
Travel would have to be approved by Dr Argilla based on how stressful it would be in the temperature and the time-span of the journey.
"It'd have to be a boat that can take the penguin that has some form of chilling on it, that can take the media, and that is licensed to go that far south," Mr Simpson said.
Dr Argilla said the penguin was being fed salmon once a day.
Because of the unusually cold weather in Wellington yesterday, Happy Feet took a swim in the Wellington Zoo saltwater pool, the zoo said, before returning to his cold room.
The emperor penguin is believed to have swum about 3200km from his Antarctic home to Peka Peka Beach.
The only previous recording of an emperor penguin in New Zealand was at Southland's Oreti Beach in 1967.
Emperor penguins are the largest penguins. The adults reach more than 1m tall and weigh up to 30kg.
They feed on fish, krill, squid and a wide range of marine invertebrates, can dive 450m deep and spend 11 minutes underwater.
- NZPA