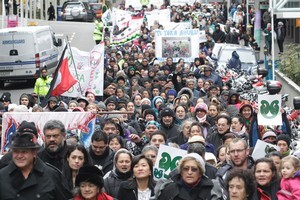 About 400 Maori descended on the Waitangi Tribunal yesterday calling for protection of kohanga reo amid concerns that the language centres could have their funding slashed.
The protesters gathered outside Parliament in the morning carrying signs and singing waiata before they marched to the tribunal's offices, where they delivered a claim alleging kohanga reo had suffered discrimination.
The whanau-based Maori language centres for preschoolers were established in the 1980s when there were fears that te reo was dying out.
The Kohanga Reo National Trust says kohanga are discriminated against if they do not operate in the same way as early childhood education centres and that kaumatua who teach the children are not funded because they are not registered or qualified teachers.
"Kohanga reo has our own kaupapa; we are more than a centre where parents drop their children off and the kids do some finger painting," said trustee Dame Iritana Tawhiwhirangi.
"We involve the whole whanau, we have a total-immersion environment, we pass on our culture and language to our mokopuna in order for our Maoritanga to be revitalised."
In its claim, the trust argued that if the Crown continued to not recognise the centres, that would threaten the movement's survival.
The claim follows the recent release of the Early Childhood Education Taskforce report, which included a recommendation for funding changes in which less money would be spent on parent-led services.
Labour MPs Parekura Horomia and Shane Jones and Mana Party leader Hone Harawira were among politicians supporting the hikoi.
Mr Horomia agreed kohanga were discriminated against and said they were about more than just education.
"It's about preservation of our language and, at times, I don't think the ministers understand it," he said.
Maori Affairs Minister Pita Sharples, who was in Auckland yesterday morning, sought to reassure the whanau of kohanga reo the Government understood their concerns.
"The Government recognises the kohanga reo desire for recognition as a distinct kaupapa Maori that does not fit within current definitions of early childhood education," Dr Sharples said.
"We are currently working through a process of dialogue with the Kohanga Reo National Trust and I have a meeting scheduled to discuss these issues in the next fortnight."
- NZPA