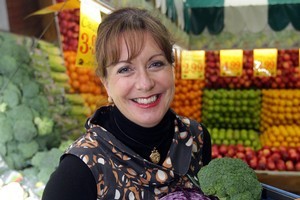 A single yellow capsicum was selling for a record $5.85 at some of New Zealand's biggest supermarket chains this weekend. Loose truss tomatoes were up to $15.98 a kilo.
The unprecedented prices should have hammered home the message: eat seasonal food rather than buy summer fruit in winter. Yet it seems that even in the cold of winter, New Zealanders are unable to shake their taste for out-of-season green salads and the like.
Bagged green salads, grown hydroponically to defeat the winter chill, featured on Countdown's list of bestsellers this week. Other fruit and veges on the Top10 list, such as bananas, mangoes, mandarins and grapes, were imported.
Countdown national produce manager Ian Pavey said these products appealed year-round because they remained high-quality.
"People forget to buy in-season," he said. "The salad lines are still selling, especially the bagged lettuce."
Yellow capsicums were more expensive than their red and green counterparts last month, but Statistics NZ said they still cost an average $15.24/kg.
Pavey said: "Supply is very limited at present."
Bananas imported from the tropics reign supreme on the list year-round. And broccoli, brown onions, carrots and pumpkin - all in season and reasonably priced - also made this week's list.
Red grapes, selling for up to $9/kg, were No10 on the best-seller list. Affordable, in-season fruit and veges, like cauliflower, spinach, apples, kiwifruit and kumara, did not rate at all.
Food guru Allyson Gofton said budget-conscious shoppers needed to let go of the Kiwi attachment to salad and embrace what was growing - carrots, pumpkin, cauliflower, brussel sprouts, spinach and bok choy.
"I can't imagine why you'd want a salad in the middle of winter," she said. "We should be leaving the courgettes and lettuce for summer and picking up broccoli at 65c a head.
"Go back to the humble cauli, parsnips, root vegetables. We have to get our heads around it."
Gofton blamed the influx of cooking shows on television for normalising luxury foods.
"The ability to buy in-season has taken a back seat while we look to eat cafe-style food. Sadly we are led by trends.
"Family food shouldn't try to replicate trendy cafe food."
You want variety? Gofton suggested the old trick of dicing carrots one day, slicing them the next. "Go back to the basics," she urged.
While pricing remained a clear indicator of what was in season, even winter produce was pricier than usual this year - partly because of the recent GST increase but also due to flooding on both sides of the Tasman.
Statistics NZ figures indicated a kilogram of carrots was 40c more expensive this year and broccoli was up 80c.
Even the humble cabbage had jumped from $1.11/kg last winter to an average $1.53/kg this month. It was not all bad news - avocado had dropped to $7.60/kg this year, nearly $4/kg cheaper than last June.
Pavey said this was because avocados were "biannual croppers" and produced a larger yield every second year.
"This year's early-season crop volumes are well up on last year's which has resulted in lower prices and better supply."
Pavey said consumers could look forward to price drops when the rainy weather stopped. Leeks and lettuce would be affected, in particular.
"They can't swim and farmers can't get on to the land to plant new crops. It affects the price down the track."
Allyson's pumpkin power
Allyson Gofton looks askance at even using the five-letter s-word in the middle of winter.
But if you must - if you really must - serve a salad in July, she offers a few substitute vegetables that will turn a fresh, green salad into a cooked winter salad.
Gofton's winter family salad can be thrown together quickly and costs less than $8.
Dice half a pumpkin and roast it in a dish with a splash of oil - any affordable oil will do. Zap either some florets of broccoli or a bunch of sliced spinach in the microwave, with just enough water to coat the leaves. Slice and fry an onion.
Mix everything together with a can of drained butter beans and add garlic, pepper and herbs to taste.