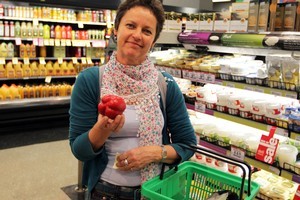 We watched from a distance yesterday as shoppers at a Grey Lynn supermarket paused in front of the capsicum display and hesitated before moving on to more affordable produce.
At nearly $5.85 for a yellow pepper and $5 for a red pepper, it's little wonder these imported fruits weren't flying off the shelves.
The prices were the highest the supermarkets have ever recorded for the capsicums, a summer fruit, providing shoppers with a strong incentive to buy in-season winter vegetables instead.
Nearly five minutes passed before businesswoman Christine Spicer, 48, placed one in her basket.
"I normally wouldn't buy them at this price. I did pause," she explained. "They were very small for that amount of money. But they do taste good and they're high in Vitamin C."
Further out from the CBD, lower prices could be found.
Nosh in Greenlane was selling red, yellow and green varieties for $3 each.
At Countdown Pukekohe and Pak'nSave Glen Innes they were on special for $4 each.
New World Mt Roskill was charging $3.49 each across the colours.
By far the best deal we found was at Orewa Farmers Market - where customers could buy a capsicum, grown locally under heat lights, for just $1.50.
At that price, you might just pause and think about it before moving on.