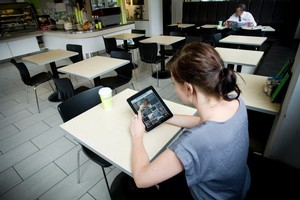 Orewa College hit the headlines this week when it told parents that part of the stationery requirements for Year 9 students would be a personal computer.
The college recommended that iPad2s were the best option for students, mainly for ease of use and longer-lasting batteries and they were happy to offer finance for those parents baulking at forking out a minimum of $800 for the basic iPad.
I don't have an iPad but everyone I know who does raves about them.
But I can understand parents flinching at the price, especially if they have a number of children at the college.
It's all very well for it to offer $10-a-week deals but there's interest to pay and, for some families, that $10 on top of uniforms, donations and conventional stationery will be a financial strain they can do without.
To be fair to Orewa, it's not the only school around that encourages students to go digital. Schools say they can revolutionise teaching if students have the right electronic tools, saying it will save lugging around heavy textbooks if students can download course material and assignments.
I spoke to an Australian mother who told me that all school kids in Australia were given a "netbook" by the Government as a matter of course and it's been a boon to learning - for her daughter, at least.
It certainly seems to be the way the rest of the world is going - South Korea, for instance, plans to have all its students digital by 2015.
But if that's the way of the future and these things are to be considered essential toolsfor learning, then there will have to be some way for all our school children to have access to them.
Squeezing $800 out of a decile 9 parent is hard enough; for many parents in decile 1 schools, a computer is an impossible dream.