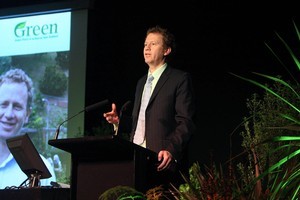 The Greens yesterday called for an investigation into hundreds of lunches, dinners and sport and theatre tickets bought for key Treasury officials with "disturbing frequency" by large banks who lend the Government billions of dollars.
Treasury yesterday released its Gift and Hospitality Register which showed staff received a total of 234 treats in the past year valued at $50 or more, mostly from the major banks.
Green Party co-leader Russel Norman said "the disturbing frequency and value" of gifts regularly given to senior staff within Treasury's Debt Management Office "should be closely looked at".
"In one year alone, Westpac, ANZ, BNZ, Barclays, and Deutsche Bank made 118 gifts to Debt Management Office staff. These included lunches, dinners and theatre and sports tickets.
"Such a culture of treating is outside of state sector rules and raises questions of a potential conflict of interest."
The Debt Management Office is responsible for borrowing money and holds regular bond tenders where banks compete to lend money to the Government. The tenders are structured so the banks offering the lowest interest rates win the business.
Dr Norman said banks extending hospitality to Treasury wanted something in return and a small change in the terms and conditions of multi-million-dollar loans to the Government could have a big influence on the final cost of borrowing to the taxpayer.
"The average New Zealander would look at this level of gift giving and expect some answers," he said.
"I'm curious to know whether [Finance Minister Bill] English is aware of this and whether he has any concerns about it or whether he thinks it's fine."
The register shows recently appointed Treasury Secretary Gabriel Makhlouf attended theatre show The Great Gatsby at law firm Chapman Tripp's expense, as well as bank-sponsored dinners.
Yesterday he told Radio New Zealand that dining out was "an intrinsic part of working with banks" and did not compromise staff involved.
A Treasury spokeswoman said Treasury's gift policy would be updated and the register published on its website periodically to ensure transparency in the future.
A senior market strategist for one of the major banks told the Herald that meetings with Debt Management Office staff were chances for an exchange of market information that benefited both parties.
STAFF TREATS
In the past year Treasury's Debt Management Office staff received 164 "treats" from banks including lunches, dinners and theatre and sports tickets such as:
* Tickets to last July's All Blacks Springbok test in Wellington courtesy of BNZ and Westpac.
* A pantomime production of Robin Hood courtesy of BNZ.
* Dinner at "extreme corporate retreat" Boomrock near Wellington, courtesy of ANZ.
- additional reporting NZPA