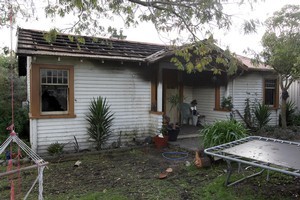 A Te Puke woman left homeless and without belongings after her partner torched their flat in a fit of rage has forgiven him, saying: "He's my husband."
Jesse Lee Blanchard, 22, was yesterday jailed for two years and three months after setting fire to the Te Puke home he rented with his 29-year-old partner, Mary Buchanan, her 3-year-old daughter and a female boarder.
The couple had been together only two months when, after a fiery two days, tensions boiled over when they began arguing over each other's "perceived infidelities", said court documents.
Ms Buchanan went to a friend's home and Blanchard turned up at her brother's house in a "highly agitated state".
After waiting there for a time, he hitchhiked to Rotorua then returned to his house to find no one home.
In anger, he used a lighter to set fire to a blanket on the bed he shared with Ms Buchanan, thinking it would burn for a while and extinguish itself.
Blanchard left to visit his partner's brother again, but then returned intending to put the fire out after feeling guilty about what he had done.
When he opened the front door a large plume of black smoke poured out of the house. He panicked when he realised he would not be able to stop the blaze.
As flames ripped through the house, destroying it and causing $230,000 of damage, Blanchard ran off and slept rough for the night in nearby Paengaroa.
When police found him, he admitted lighting the fire and later pleaded guilty to a charge of arson.
Blanchard said he wanted to show Ms Buchanan how much she had hurt him because he "felt trapped and angry and did not know where to turn"and he only wanted to burn a hole in her bedding.
But the blaze cost Ms Buchanan all her possessions - including a wardrobe her grandfather received for serving in World War II - and left her and her daughter homeless until she found a home through Housing NZ a week later.
She told the Bay of Plenty Times at the time that she did not know how to handle the incident, saying she had only the clothes on her back and was "totally gutted".
But when approached by the Herald outside Tauranga District Court yesterday, she blamed Blanchard's mental illness for the incident.
"If he gets his mental illness sorted, he's a pretty good guy. I'm still angry, but you know I've taken into account his mental illness."
Asked if she had forgiven him, she said: "Yeah, he's my husband."
Ms Buchanan said she was happy with the sentence, adding: "We'll be seeing where we go from here now."
The Herald could not reach the property's owners for comment.
In sentencing, Judge Louis Bidois told Blanchard his act was premeditated, deliberate and asked him how he would feel if someone set fire to his or his father's house.
"The owners of the property have suffered considerable stress and anxiety."