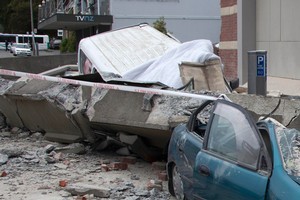 An editorial in an Israeli newspaper editorial has slammed New Zealand's media as having "blatant prejudice" against Israel following yesterday's story on a Christchurch earthquake victim being an alleged Mossad spy.
The Jerusalem Post has criticised the coverage of the story, broken by the Southland Times, about police fears Israeli agents may have exploited the February 22 earthquake in order to access police records.
"The far-fetched fiction disseminated by New Zealand's news outlets seizes on every Israeli facet of the episode - no matter how innocuous - as evidence of nefarious cloak-and-dagger schemes. It's being claimed that one of the Israeli casualties, Ofer Mizrahi, and three of his travel-mates, were Mossaud agents up to no good in Christchurch.
"But overactive imaginations are the least worrisome aspect of this tale. The fact is that the reports weren't woven from whole cloth. According to New Zealand's own premier, John Key, his country's Security Intelligence Service (SIS) and local police did indeed probe suspicions that the Israeli backpackers were Mossaud agents."
Mr Key acknowledged yesterday there had been an investigation, but had cleared the group of being Israeli spies. However, the Southland Times maintains the investigation is on going.
"In Key's own words, 'The unusual circumstance which triggered the investigation was the rapid departure from the country of the three surviving members of the group of Israelis in question', the editorial continued.
"This is what must arouse our concern: suspicions about Israeli spies in the midst of a natural disaster. The very fact that the tragic roll-call of casualties included Israelis sufficed to generate allegations of wrongdoing.
"It seems the SIS lacks more urgent preoccupations.
"Odds are no foreign tourists from any other country would have been the objects of such unsubstantiated suspicion, nor the subjects of intelligence investigations launched for no plausible reason."
The Post said the 2004 "kerfuffle" in which two Israelis were caught stealing New Zealand passports "certainly doesn't justify this behaviour".
"Considering how far removed New Zealand is from our arena, its attitude betokens bias more than vigilance."
The editorial said the New Zealand media typified the sort of "slanderous reports" which "demonize Israel".
"As such, Christchurch's canard is symptomatic of Israel's international standing and constitutes a measure of our delegitimiation and ostracism even in distant places. So habitually tarnished are we that it's easy to smear us further and accuse us of just about anything.
"This, in turn, highlights Israel's inherent difficulties in attempting, with one hand tied behind its back, to wipe off the mud unjustly slung in its face.
"No reasonable gestures or concessions on Israel's part are likely to offset blatant prejudice."