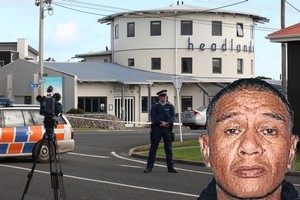 The Taranaki man shot dead by police after a 12-hour hostage drama had a violent history and recently came close to strangling the same woman he held captive last weekend, court papers say.
Anthony Roydon Ratahi, 46, from Stratford, was shot by police on Saturday after holding ex-girlfriend Marcelle Beer hostage at the Headlands Hotel in Opunake, 65km south of New Plymouth. A post-mortem found he died of a single shot to the head.
Sentencing papers released yesterday showed Ratahi almost strangled Ms Beer before putting a knife to her throat when she went to his home in May, The Taranaki Daily News reported.
Ratahi pleaded guilty in New Plymouth District Court to one charge of intending to cause grievous bodily harm and another of assault using a knife.
Judge Max Courtney described Ratahi's offending as serious.
"Ms Bolstad (Ratahi's defence counsel Turitea Bolstad) suggested that this offending could be seen as not as serious given that it was Miss Beer who came to your house uninvited and notwithstanding that she had a protection order in place against you," he said.
"Whilst, obviously, that may have been annoying from your point of view, it certainly did not warrant the response that you showed to her.
"There was a placing of both of your hands around her throat.
"She was unable to breathe and her vision started to blur.
"That level of assault is one that clearly calls for a sentence of imprisonment."
Judge Courtney said Ratahi then approached Ms Beer's car with a knife and a tomahawk axe and put the knife to her throat.
"That must have been a very terrifying experience for her," he said.
Ratahi was convicted of assaulting another female in March.
He was sentenced to three months' jail.
A tangi for Ratahi will be held at Oeo Marae in Opunake today.
His death is being investigated by police.
- NZPA