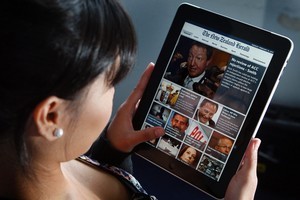 All students will eventually have to take a tablet device such as an iPad to school, principals say.
But questions are being asked about who should pay for the expensive computers.
Orewa College is in the firing line after telling parents all Year 9 students will need "one-to-one computing devices" next year so they can step into the 21st century with the "latest technology available".
While those devices could be a laptop, netbook, iPad or a rival Android tablet, the school has made it clear it prefers the iPad2 because they claim it has the best battery life.
That has generated outrage from many in the community who say the cost - which ranges from about $800 to $1148 - is out of many parents' reach.
More than 100 people expressed their views on nzherald.co.nz, with many questioning the affordability.
"They are asking the parents to buy 'an affordable portable computing device'. They must have a different idea of 'affordable' than most of us," said one reader.
Orewa College principal Kate Shevland said the school was aware that families could struggle to meet the cost, which was why they had put off introducing them until next year and had started informing parents early.
Secondary Principals' Association president Patrick Walsh said he expected iPads would become compulsory at all high schools in four or five years, but the question would be who paid. "In lower decile schools, the Government needs to intervene and pay, or provide a subsidy if we want to keep pace with the world economy.
"There's no point in the Government rolling out the ultra-fast broadband if they're not going to help provide resources in schools to use it."
Labour's education spokeswoman, Sue Moroney, said if this was the way of the future then it was something the Government needed to be funding.
"The problem with it is most families won't be able to afford that cost, and yet every parent wants to make sure their child isn't disadvantaged at school. So it's putting parents in a terrible situation."
She said many parents had more than one child at school so making things like iPads mandatory was potentially adding thousands of dollars to the annual stationary bill.
Education Minister Anne Tolley said a record $12.2 billion was allocated in the Budget, part of which included an increase in operational funding for schools, part of which was targeted at IT.
But she said schools were self-governing and made their own decisions about where funding went - although that must happen in conjunction with their communities.
Orewa College isn't the first school to require students to have their own computers or tablets.
Pt England primary school is one of seven Auckland schools which have introduced Netbooks to all senior students following a successful trial last year.
Principal Russell Burt said parents paid $15 a month in a three-year, rent-to-own scheme for the small laptops which helped children with literacy.
One parent, who did not want to be named, told the Herald there had been some "outrage" from other parents, but once they had a meeting with the school they seemed to be a lot happier about the move.
She was told the school would have some computers available, but students would not be able to take them home.
THE OPTIONS
Tablet devices
* New model Apple iPads cost between $840 and $1148.
* Cheaper tablet devices available.
* Touch-screen, virtual keyboard.
* iPads limited to software that has been 'approved' by Apple.
* Limited input - no USB or DVD.
* Limited on-board storage.
Laptops
* Range of inputs - USB / SD etc.
* No limits on software.
* Keyboard, DVD and big hard drive to store files.
* Prices start at about $650.
Netbooks
* Prices as low as $400
* Cheap, small-form laptops.
* Full keyboard.
* USB / SD cards.
* No DVD player.
- additional reporting NZPA