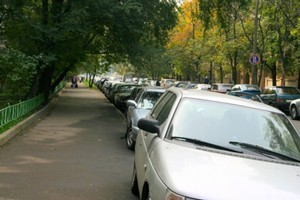 Days look numbered for Auckland commuters who drive to central suburbs, park their cars free in residential streets, then catch buses or walk the rest of the way to work.
Auckland Transport has responded to calls from St Marys Bay residents in deciding to run a year-long trial preventing outsiders from parking throughout the well-appointed suburb for more than two hours between 8am and 6pm on week days.
Residents will have to buy permits to park for more than two hours, although the council-controlled organisation says these are likely to cost less than $100 a year for one vehicle in a scheme which will spread to other city fringe suburbs if proven successful.
The St Marys Bay Association supports paid permits to give residents better chances of finding parking spaces in their own streets, says chairman Tony Skelton.
"In principle we are supporting their initiative, which has really come about as a result of pressure from us," he said.
"You'll pay a fee but at least the residents will be able to park outside their houses instead of blocks away.
"This is a residential zone but you can leave your house at 10am and come back an hour and a half later and it might be a couple of blocks away before you can find a park."
Mr Skelton said commuters were driving from all over Auckland to park in his suburb's narrow streets to catch Link buses the rest of their way to work.
His association was also concerned about extra pressure on parking spaces when the steep Jacob's Ladder steps down from Harbour St to a pedestrian link to Beaumont St reopen next month, from a closure associated with the Victoria Park motorway tunnel project.
That will see commuters returning to parking their cars at the top of the steps, then walking to work around the Tank Farm and Viaduct Harbour.
Although several St Marys Bay streets already have a limited section for residents' parking permits costing $150 a year, as have other parts of Auckland, the new scheme will cover the entire suburb between New St on the city side to Curran St on the west.
Mr Skelton said St Marys Bay was one of the country's oldest residential areas, with limited off-road parking and narrow streets built for horses and carts rather than parking on both sides and two-way traffic.
Yet it had been turned into a "transit" area by free-loading commuters trying to avoid inner city parking charges by leaving their cars there and catching short-haul buses.
"You should catch your bus from where you leave home," he said.
"That's the whole idea of public transport, isn't it? We are entitled to have the same amenities as those who live in any other suburb in New Zealand."
Auckland Transport spokeswoman Sharon Hunter said formal consultation over the new scheme would take place with residents in September with the intention of introducing it by the end of the year.
Signs would alert drivers entering the St Marys Bay zone and visitors who needed to park for longer than two hours, including tradespeople, could buy special permits.
Fees had yet to be determined through consultation, but residents' permits were likely to be less than $100 a year for one car, although more than that for extra vehicles.
Although limited schemes were already in place in individual streets, St Marys Bay would host Auckland's first zone-based regime.
She confirmed the scheme was intended as a trial for other city-fringe residential areas.
THE TRIAL
* Non-residents will not be able to park in St Marys Bay for more than 2 hours between 8am and 6pm on week days.
* Residents will have to buy permits to park in the suburb.
* Permits are likely to cost less than $100 for a year for one vehicle.
* The trial is for a year.