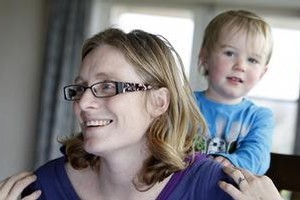 A Northland mother of three is hoping other mums will donate their breast milk so she can continue to feed her youngest son.
It might seem an unusual call for help, but for Jaynie Cumming it's completely natural.
The 33-year-old midwife had a double mastectomy just over a month ago and wants to continue feeding her youngest son - one-year-old Bastian.
She believes that breastfeeding is essential to raising her children.
In some countries she could rely on a milk bank to help her out but here in New Zealand there is no such thing and she is relying on the goodwill of other mothers to donate.
So far the response has been great, she says. But Mrs Cumming, who lives at Pakaraka, hopes to feed her son mother's milk for at least another six months. Having breast-fed for almost the last four years, and at times with tandem feeding involved, being unable to feed naturally had been heartbreaking.
"I had a plan to work on with one breast and then all of a sudden that was it," she said.
In April this year she discovered a lump in her left breast. Initially the lump was sore and the milk flow came and went.
Mrs Cumming never felt ill but the lump was painful and a visit to the doctor then led to an appointment at a breast clinic.
It was invasive cancer, but worse news was to come.
During the last check-up with the doctor - 10 days out from operation day - a lump was found in her right breast.
Mrs Cumming described it as "pretty much the worst day of my life".
After the life-changing news, she wrote on her blog: "It's not fair, my babies have the right to be breastfed.
"I worry that I don't know how to mother without breastfeeding.
"How will I console them the way they need it? How will I stop the middle of the night wake-ups, without a nipple to offer? How will I hold my baby while he nuzzles at a bare chest and still be able to meet his needs? I feel like I am lost."
Both of her breasts were removed.
"Every baby has the right to be breastfed ... it's about giving them the best that I can give them. But sometimes it doesn't work out that way," Mrs Cumming said.
"You do what it takes. To me it seemed so simple. I can't give him my milk so I will give him someone else's."
An old school friend, Kim Thompson, had been crucial in co-ordinating the collection of breast milk from around the country and delivering it to Northland.
Though the response had been fabulous, Mrs Cumming still would like to know there was a constant supply.
Bastian has started eating - with capsicums and peas on the like list - but ideally she would like to have a breast milk supply for the next six months.
"I'd like to feed breast milk until he is 2 but I'm under no illusions. If we did another six months that's all I could ask for."
Her preference is for non-smokers and she can help with obtaining antenatal blood tests from midwives.
Mrs Cumming said her husband, Daniel, had been a rock and supported her totally through the journey. Her other two sons, Charlie, 4, and Raife, nearly 3, were also adjusting.
For more articles from this region, go to Northern Advocate