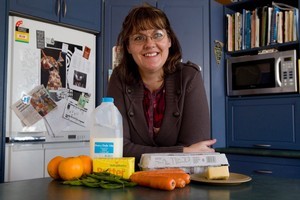 Families feeling the pinch may already know it but government figures yesterday showed the highest annual inflation in 21 years, with soaring prices for petrol, food, transport and power.
Statistics NZ said consumer price index inflation was 5.3 per cent for the year to June.
The annual increase included a 2.3 per cent gain as a result of GST being increased from 12.5 per cent to 15 per cent in October.
The annual rise was the biggest since the June 1990 quarter, which also included a GST increase.
The worst-hit areas were petrol - up 20.1 per cent in the last year - while transport costs were up 11 per cent, electricity 7.8 per cent and food 7 per cent. Cigarette and tobacco prices are up 16 per cent in a year.
For one family, the soaring inflation figures come as no surprise. Jillian Grainger, 44, noticed mounting petrol and basic food costs over the past eight months.
"You notice what you're getting for the price you're paying. At the supermarket, you get three pathetic things in a bag when you used to get a full bag."
The Mt Wellington resident has four children between 12 and 19 and spends $1800 to $2000 a month on groceries. She and her husband buy bulk and seasonal food to feed three teenage sons.
"Milk is just so horrendous. We go through a lot of milk. It's probably cheaper to buy a cow."
The family faced a $500 power bill at the height of winter last year, and have successfully cut costs back to $300 a month this winter, she said.
They have reduced shower times, signed up to the Government's insulation scheme and a fixed-cost electricity rate, and have invested in more energy-efficient appliances.
The Federation of Families Budgeting Services' chief executive Raewyn Fox said although the figures showed the cost of living had gone up, wages had not.
"We're seeing people who haven't had any wage increase in three years.
"Many of the customers that are coming to see us, things are a bit tight. And there's just nothing spare. So when the prices go up they just have to buy less, which basically means they're going without."
She said the company's budgeting services are busier, and there has been an increase in food parcel demand.
BNZ chief economist Tony Alexander said while the inflation increase is more than 0.8 per cent economists predicted for the quarter, it's not enough for some "head-scratching".
"Overall inflation is slightly higher so that slightly increases the chances of the Reserve Bank tightening before September."