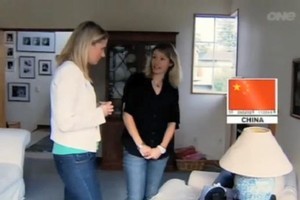 Current affairs show Close Up has apologised over a programme accused of plagiarising an American network item.
The clip entitled "Made in New Zealand" aired and was found to be virtually identical to one that appeared on American network ABC in January. Herald Sideswipe columnist Ana Samways revealed the similarities in an article last week.
Make up your own mind - see the two clips compared here.
"A story we screened on Thursday night was inspired by a similar concept produced by our affiliate ABC America,"Close Up host Mark Sainsbury said in the apology.
"Unfortunately, the story produced took the inspiration too far, a fact we were rightly picked up on. How it happened is a matter now being thoroughly investigated, but we are disappointed that it happened, as we set high journalistic standards for ourselves.
Let's be frank, we let you down, and for that we apologise."
Reporter Kate Lynch presented the story, which showed how many household items in the home of a typical Auckland family were made in New Zealand.
"She tracked down a willing Auckland family and nosed around their home looking at where all their household tat was made," wrote Herald columnist Samways in a Sideswipe column that exposed the issue.
"To further illustrate the point they sent the family away, hired a removal truck and loaded all the non-Kiwi made household goods into it - leaving a sparse house."
"Most of the family's belongings were not made here and neither was this Close Up story."
Media commentator Brian Edwards said it was a "frame-for frame, word-for-word" duplicate."