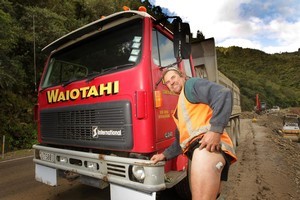 The world-famous "Balloon Man" has gone back to work after not being able to survive on ACC compensation for the accident that inflated his body to three times its normal size.
It's been little more than a month since Opotiki contractor Stephen McCormack slipped between the cab of his work truck and landed with his backside on the nozzle of a compressed air reservoir.
Air compressed to 7kg a square centimetre instantly pumped his body to cartoonish proportions.
Medical experts called his survival a miracle and it earned him relentless attention from the world's media.
But he had to make an early return to his contracting work two weeks ago after receiving compensation of less than $300 for the month he spent recovering.
Mr McCormack said he was paid $1000 each week through his contracting work and believed the low amount of compensation he received may have been a miscalculation.
"I would have rested longer if they had paid me more, but you've got to pay the bills, so I had to go back to work."
The little money he received also had to cover groceries and other living costs for his partner, Ali Cooper.
"We had to use our savings in the end," Mr McCormack said.
But he said he did receive assistance for the daily trips from his hillside shack in the Waioeka Gorge to Opotiki in the early days of his treatment.
ACC said it could not comment on Mr McCormack's situation because he had not given it permission to.
Weekly compensation was generally paid at 80 per cent of a client's pre-capacity earnings and did not cover the first week of incapacity, said ACC's national manager of business improvement, Cheryl Gall.
"It's important to note that if you're self-employed or a shareholder employee, then generally weekly compensation is paid on the previous year's earnings which you've declared to Inland Revenue," Ms Gall said.
More hardship for Mr McCormack struck when a flood that damaged the gorge carpeted his land near the river with nearly 10cm of silt.
"All the fences were under water and we had to sell half our cows. We had 34 and we had to sell off 17.
"Now it's just a matter of waiting until the grass regrows."
Mr McCormack, whom the Herald found filling roadside rock baskets to stabilise the river's edge of the highway flowing through the gorge, said his recovery was also a matter of waiting.
"I go back to the hospital about two or three days a week to get my injury sorted.
"There is still meat that comes to the surface and they've got to burn it off so the skin can carry over."
Despite the steady flow of traffic flowing past his roadworks site, he did not mind dropping his trousers to show the wound, which is about 2cm wide and 5cm deep after doctors had to use a drill to clear it.
"I'm getting around okay - it's sore if you fall over, but that's about it," Mr McCormack said. "It's healed up so well now that it's like a miracle."
"My doctor says they don't treat miracles, but in this case it was."
Media interest had been steady since the ordeal - he was happy enough to be interviewed by Campbell Live and he has signed up for another close-up with Lucky Break magazine.
And despite the passage of time, the wisecracks keep coming from his workmates.
Last time the Herald spoke to Mr McCormack, they were calling him "Balloon".
"These days, I think it's 'Air Man' they're calling me," he said.