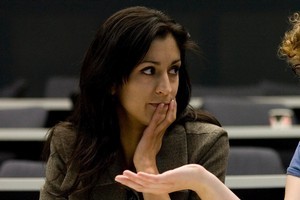 An Auckland University sexuality researcher has hit back at Dr Albert Makary's controversial claim that Kiwi women treat sex "like mating in a paddock".
"Having casual sex doesn't make someone promiscuous," says Pantea Farvid, a leading expert on casual sex.
This month, Dr Makary, a Timaru-based gynaecologist, appealed for a national campaign against promiscuity after a Durex Sex Survey claimed Kiwi women were clocking up higher numbers of sexual partners than their male counterparts.
Dr Farvid says she was troubled by the statements Dr Makary, other sexual health practitioners and fourth-year psychology student Emily McKenzie gave in interviews with the Herald last week.
She says they were perpetuating an "age-old double standard" by insinuating that women cannot, like men, seek sex simply for pleasure.
That stigma is at the heart of Dr Farvid's six-year study, and her findings gained her a PhD last year from Auckland University.
Dr Farvid says the suggestion that New Zealand has a promiscuity issue reveals a troubling societal double standard. The word's synonyms reveal much about the sentiment in which it was invoked by Dr Makary.
In a "lads" culture that fancies its young bucks as budding Casanovas, women who sleep around are presumed "immoral", "licentious", "wanton", or "loose".
Dr Farvid has spent the past six years studying men's and women's casual sex psychology at post-doctoral level and has called for a new era of sexual ethics in which women can seek out casual sexual encounters safely and without being labelled "sluts".
In a Herald article, Ms McKenzie, a Canterbury student, said she was confident that sexually-free behaviour had only negative effects for her peers. "What I've seen is young girls that are sleeping around to try and find love and boost their self-esteem."
Dr Farvid rubbished the generalisation, saying "pathologising" others' sexual choices undermined today's liberalised cultural environment that her study concluded had firmly entrenched casual encounters on the sexual menu.
"The women that I interviewed weren't looking for love through casual sex. It was about having fun or having sex when they felt like it - it was never a strategic tool to get a boyfriend."
She said such sentiments were born of a traditional view of casual sex as "bad sex" - a judgment applied predominantly to women.