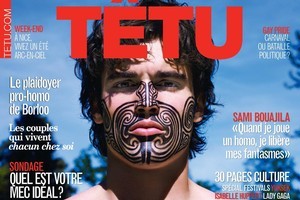 In 2007, they stole our chance at winning the Rugby World Cup. This year, they're at it again.
France's rugby fullback, Alexis Palisson, 23, has posed on the front of glossy magazine Tetu with a fake facial moko - to the fury of Maori who say it's cultural theft.
Inside the magazine, the rugby star is depicted half-naked, wearing more tattoos stencilled on his back and waving a spear.
"Grr," howls renowned fashion photographer Ram Shergill in an accompanying video of the magazine photo shoot. "You're in the jungle. You're in Africa!"
Broadcaster and urban Maori leader Willie Jackson was furious.
"When it comes to Maori cultural property, people just take what they like, when it suits them," he said.
"We have a sense of humour - but moko are sacred. To use them once-over-lightly like this does nothing to advance our culture. It's like the Spice Girls doing the haka."
Early yesterday, after being approached by the Herald on Sunday, the French rugby team hastily distanced itself from Palisson's actions, saying he had been playing club rugby with Brive at the time.
A representative of the Fédération Francaise de Rugby spoke to Palisson, who was in a training camp yesterday, and the player expressed regret at causing offence.
The photo shoot was for Tetu, a bimonthly magazine catering to France's gay and lesbian community. In the accompanying article, Palisson is described as a warrior of modern times.
"For me, Maori tattoos are like the haka," Palisson says in the article. "It is a tradition that I respect and is part of rugby ... Many rugby players like to be tattooed with designs from over there."
Tetu editor-in-chief Gilles Wullus said yesterday that the photo shoot should be seen as a tribute to New Zealand. "I am well aware of the sufferings of Maori in New Zealand, but I certainly am a rarity here in France, since the vast majority of French ignore everything about your so faraway country."
The row over the use of the moko comes in the same month that the Waitangi Tribunal issued its long-awaited report on Maori intellectual property, in which it recommended the Government should give Maori a right of veto over the commercial exploitation of cultural imagery.
Auckland intellectual property consultant Murray Stott said there was nothing to protect Maori designs from overseas exploitation. "Once we get to Britain or Europe, we're buggered," he said.
But Lionnel Rossigneux, a French national rugby team spokesman, said the federation was not trying to trade on Maori culture.
"When Alexis Palisson did the shooting on the cover of the newspaper, he wasn't under the French rugby union's responsibility," Rossigneux said. "But having spoken with Alexis, he never did that to offend anyone. He thought it was a good way to celebrate and a mark of respect to the Maori people and the Maori culture."
Jackson was sceptical. "If they really respect Maori they could pick up the phone and check with us first."
MAORI v THE WORLD
* 2001: Danish toy company Lego was reprimanded by Prime Minister Helen Clark after using the names Tohunga (spiritual healer) and Tapu (sacred) for a range of toys.
* 2002: German manufacturers of "Moana" musical instruments and hairdyes threatened to sue singer Moana Maniapoto to stop her releasing a CD of the same name.
* 2004: Heavyweight boxer Mike Tyson had koru curves inscribed on his cheeks, to the annoyance of some Maori.
* 2005: Tobacco multinational Philip Morris apologised after marketing "Maori mix" cigarettes in Israel.