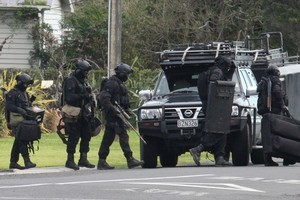 Jailed for holding a knife to her throat. Freed - to hold a gun to her head.
The man shot dead by police yesterday had just got out of jail for trying to cut the throat of the woman he held hostage for 12 hours. Anthony Roydon Ratahi, 46, was released from prison nine days ago after an eight-week stint behind bars for a horrific domestic violence attack on his ex-girlfriend Marcelle Beer.
Details of Ratahi's criminal background emerged as the full drama leading up to the fatal shooting in Opunake was revealed. Ratahi took Beer hostage after entering the busy Headlands Cafe and Restaurant where Beer was working, then barricaded himself in for a 12-hour siege.
"Get the f*** out of here or I'm going to shoot you," he shouted to diners and staff as he grabbed Beer.
Police shot Ratahi yesterday after setting loose a police dog to attack him - although were last night still searching for the gun he was seen wielding.
Yesterday Beer's brother spoke out in anger at the light sentence given to Ratahi, who was released from prison on July 6. "He tried to cut her throat three months ago. She was lucky the knife was blunt," said her brother, who did not want to be named. "He pleaded not guilty and was sentenced to a lousy six months in jail. What sort of sentence was that? People are being sentenced for two years for having too many paua. It's absolutely pathetic."
Locals said Ratahi was a violent P addict who was well-known to police. The Herald on Sunday was told he was previously the cause of two other callouts of armed police.
"The cops knew he was coming back. The cops have never been happy with what he got and how the judge [and] the hierarchy have run it," said Beer's brother. "He was rated as a 10 out of 10 as a danger towards my sister when he was released."
Katrina Casey, general manager of the Department of Corrections' Community Probation Services, said corrections had no involvement with Ratahi after his release. There were no restrictions imposed on Ratahi's release and the Herald on Sunday understands the sentence was too short for any rehabilitation or anger management programmes.
Sensible Sentencing Trust spokesman Garth McVicar said: "It's a pathetic sentence." "The whole ideology of the justice system is wrong - it seems to be designed to get the offender back on the streets again as soon as possible and to hell with the consequences."
The dramatic episode began about 10.45pm on Friday when Ratahi entered the cafe.
Ratahi was seen lurking outside until one of the local rugby teams left after a birthday party.
The departure of the players meant there were 16 women left in the restaurant - and head chef Ryan Moss.
Kathy Muggeridge, 31, had just finished dining with her basketball team.
She saw Ratahi walk in and "all of a sudden he started yelling. All I saw was the barrel of a gun". She yelled for her teammates to run .
Another teammate, who did not wished to be named, said: "We were about to pay our bill, along with another group of four women, when the guy came through a side door, pointing a handgun and shouting 'Get the f*** out of here or I'm going to shoot you'.
"We had to run past him. It was really scary. We jumped in our cars and took off."
Witnesses reported Ratahi grabbed Beer and dragged her into the hotel section of the business, barricading himself in for a 12-hour stand-off.
Four of the town's main streets were cordoned off and helicopters flew in to land in the road with members of the elite Special Tactics Group.
Neighbour Allan Drought, who lives in a two-storey house which backs onto the hotel's kitchen entrance, was watching television with wife Maree when police came in and asked if they could view the property from his place. About 1.30am they asked the couple to leave their house.
Officers could be heard calling to Ratahi with a megaphone, asking him to surrender.
Then about 10.20am, they managed to encourage Ratahi outside the hotel carrying a knife. He struggled with a police dog and was killed with a single shot.
Detective Superintendent Andrew Lovelock was appointed to oversee three separate investigations. The Independent Police Conduct Authority has appointed an investigator.
The scene has been cordoned off so a full examination can be completed.