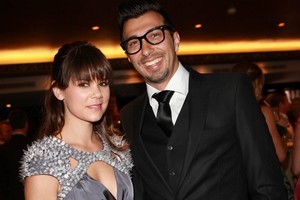 Television power couple Amber Peebles and Brooke Howard-Smith plan to build their dream house - so they are selling their Sandringham Rd home.
The modest brick-and-tile bungalow was built in the 1920s and has three-bedrooms and one bathroom.
It features polished wooden floors, modern kitchen, open-plan living areas and, naturally, a huge wardrobe in the master bedroom.
The estate agent, Marc Collins, said it was expected to sell for a lot more than its $510,000 capital valuation.
Peebles, a 28-year-old former fashion student, shot to fame in 2003 when she was crowned Miss World New Zealand. She worked as a presenter on MTV and recently took up a reporting role at Sky Sport.
Howard-Smith, 38, was the face of the popular TV3 consumer affairs show Target and was instrumental in the recent Rise Up telethon for Christchurch.
The new season of Target was being filmed last week.
Howard-Smith said he loved the home's view across Sandringham and its sunny aspect.
Preparing it for open homes had been a bit of work, he said.
"I did a lot of work in the garden, the odd bit of painting, but no real DIY."
The house goes to auction on July 31.